Carnival World is a top Arcade Rental Company in Singapore. We provide a wide range of cheap arcade machines rental in Singapore! From the popular Claw Machines, Bishi Bashi, Daytona, Basketball Machine, Air Hockey, House of the Dead, Batman, DDR, King of Hammer, Retro Video Arcade Games, Punching Machine, we have it all at the best prices in town!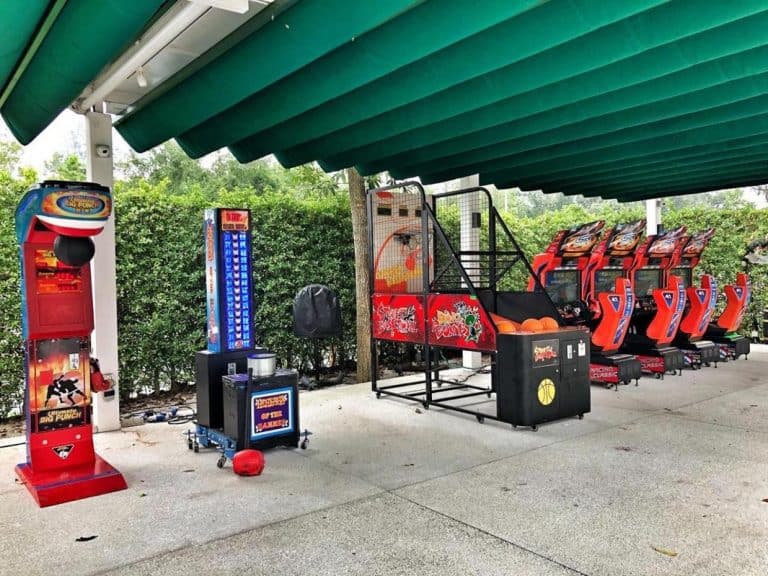 DIRECT SUPPLIER OF ARCADE MACHINES RENTAL
Rent direct and save more cost! As the direct supplier of arcade machines rental in Singapore, Carnival World have over 50 different affordable in-house arcade machines for roadshows, parties and events!
Carnival World offers additional discount package rate for rental of 2 or more days, or 2 or more machines hired from us! Enquire with our friendly sales assistant about our arcade game machines rental today!
Below is the full list of arcade game machines we provide. To enquire, simply click on the button below and fill up a quick form, or WhatsApp our friendly sales assistant for more information. Our sales assistant will reply as soon as we got your message!
LED Claw Machine
Carnival World is the leading claw machine rental company in Singapore! We have 2 types of toy catcher machines and both have attractive LED lights! Whether it's for a party, event, shop opening on integrating the claw machines to your existing business, we are here to help! Our claw machines are also fully customisable as well! Please contact us for price and measurements of the machine.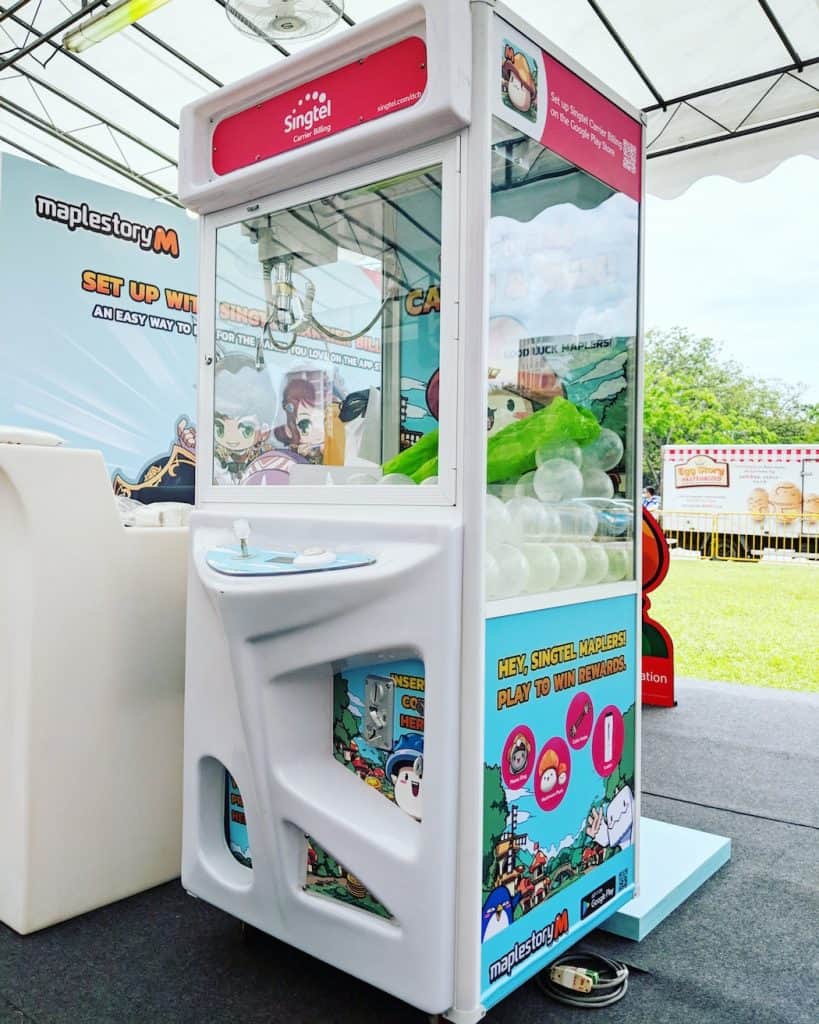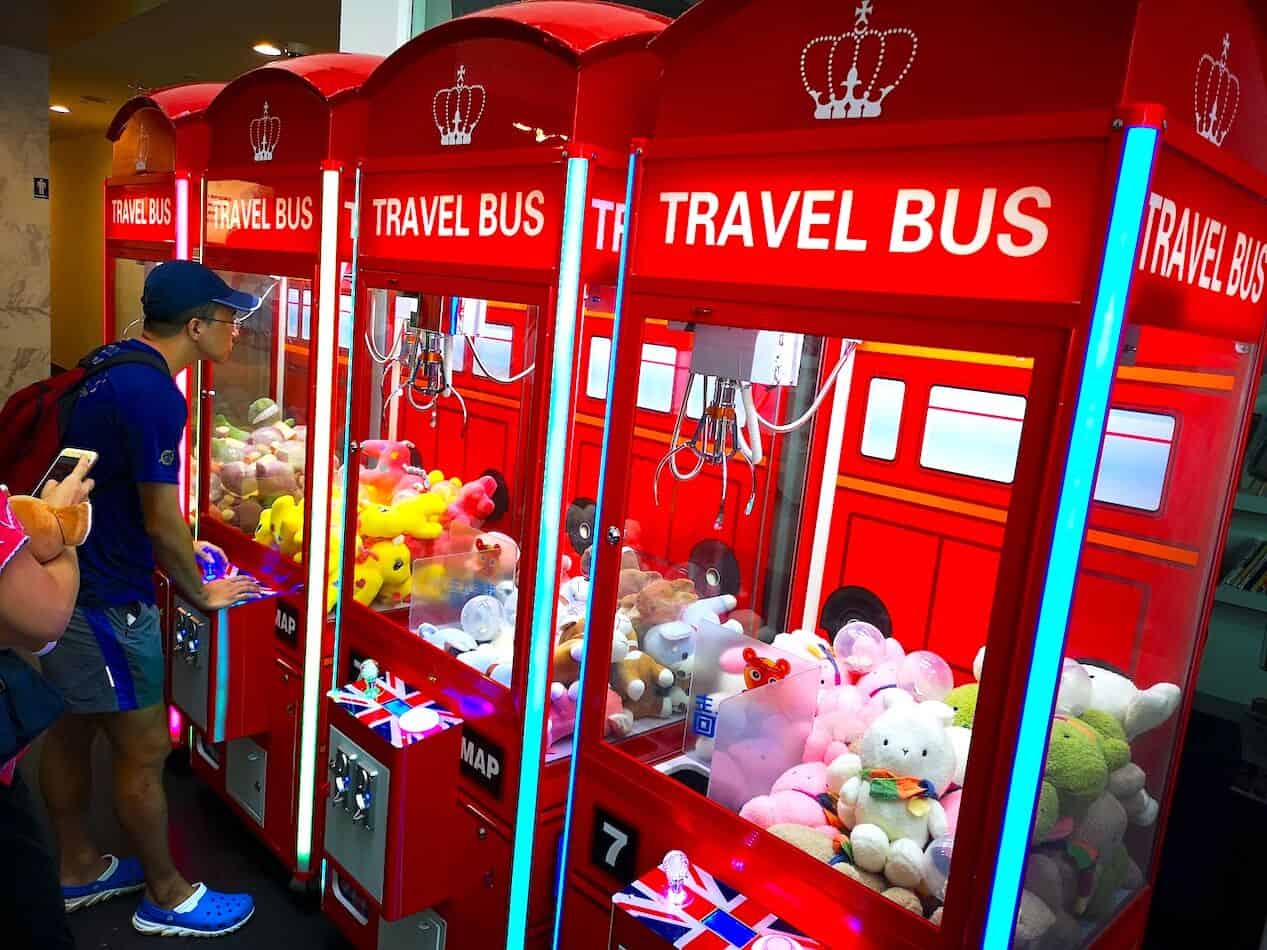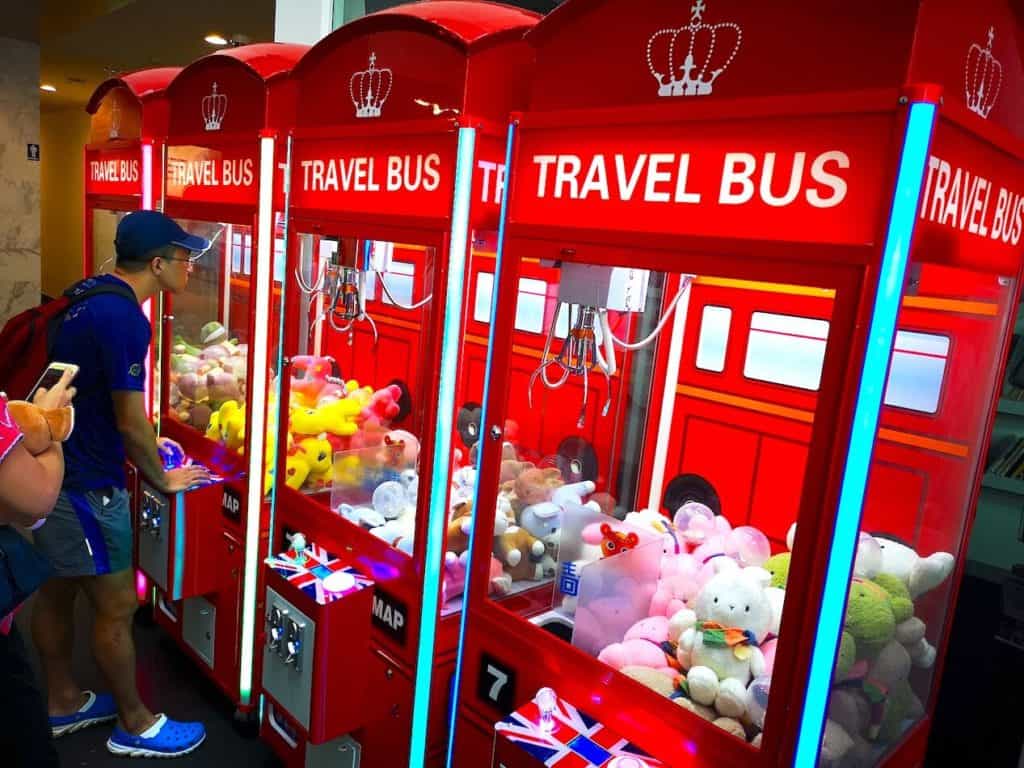 Customized Branding on Claw Catcher Machines
King of Hammer Machine 
King of hammer arcade game machine is one of our most popular game machine rental in Singapore. It can serves as a challenge at an event or simply just a fun activity for your guests at the event!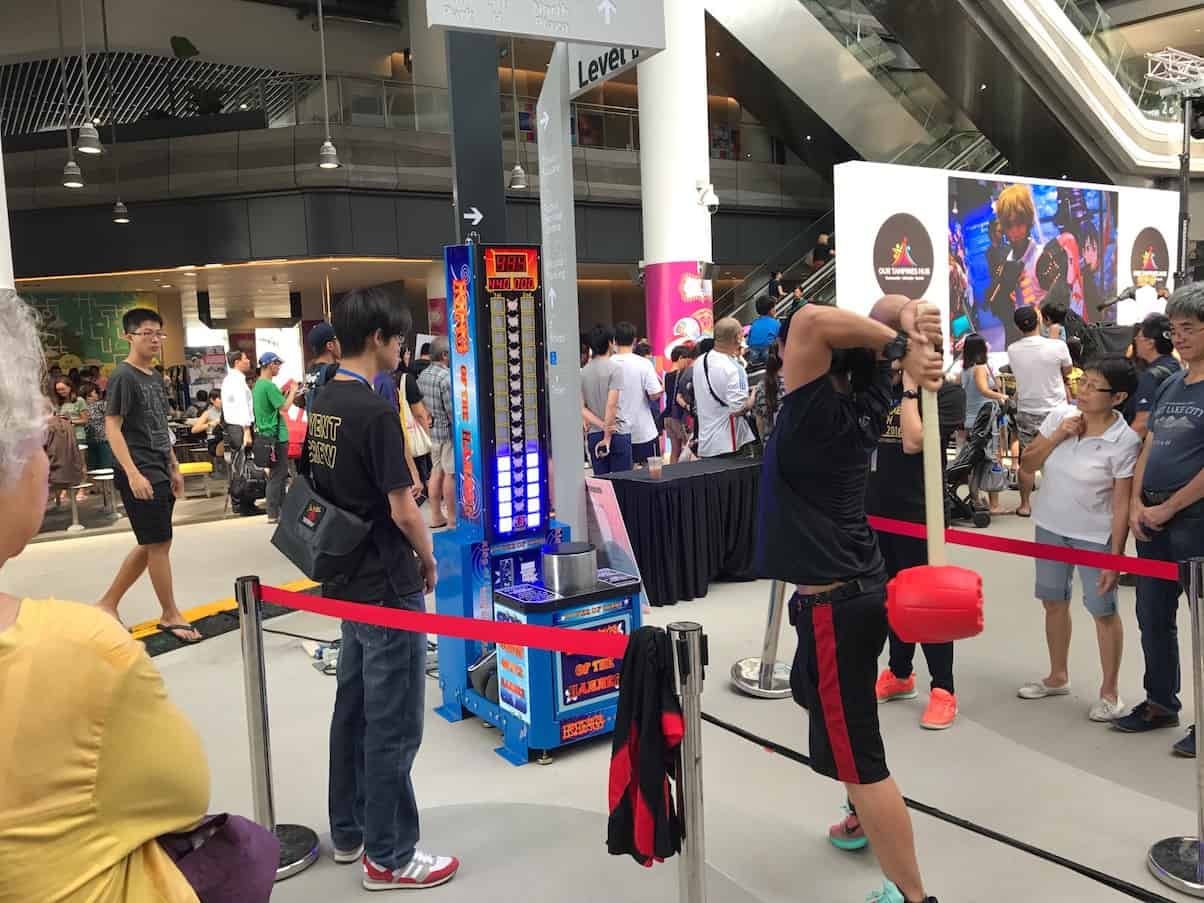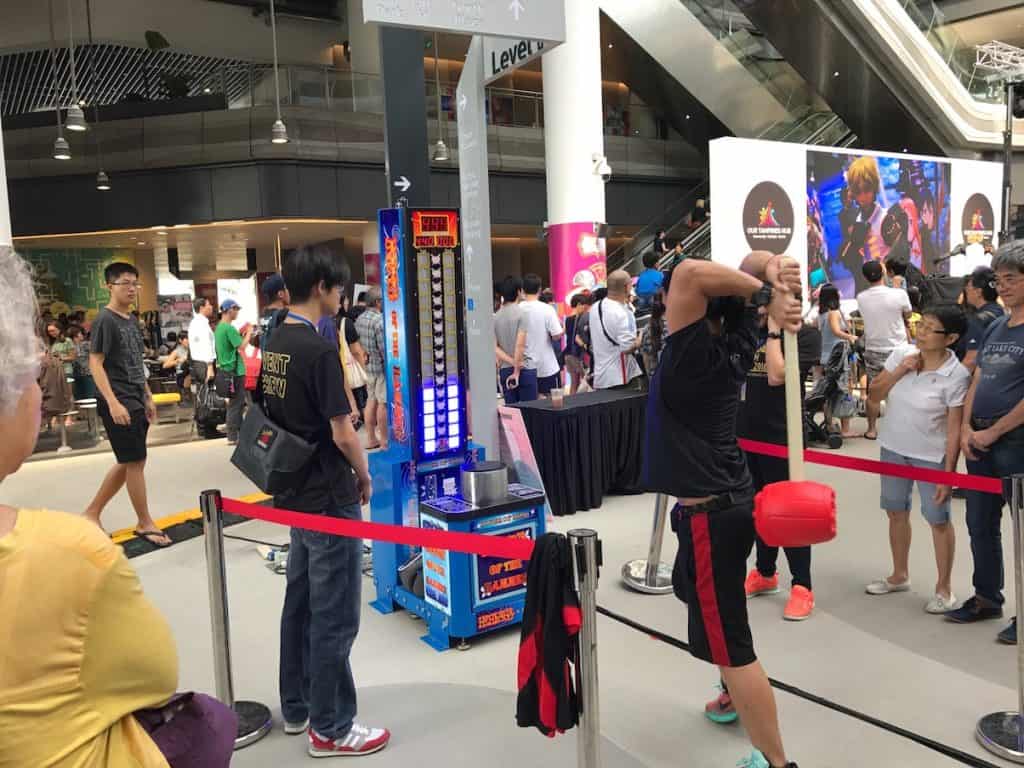 Punching Machine 
Our ultimate puncher machine is now available for rent! Test your strength by having our puncher machine at your event booth. Challenge your guests to beat the high score on this punching machine.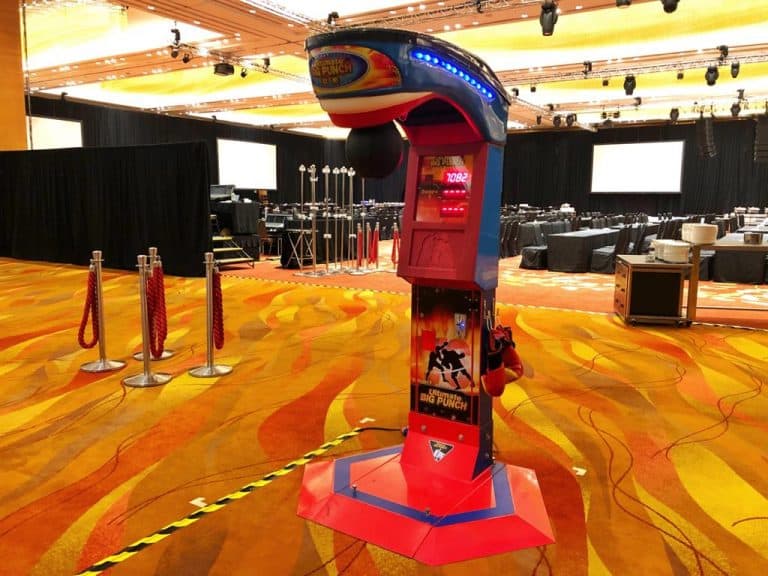 Arcade Basketball Machine 
Another popular arcade game machine that best fit any sports events at any party or events in Singapore. No doubt, every guy loves our basketball machines! It's time to allow your guests to show off their basketball accuracy skills at your event today!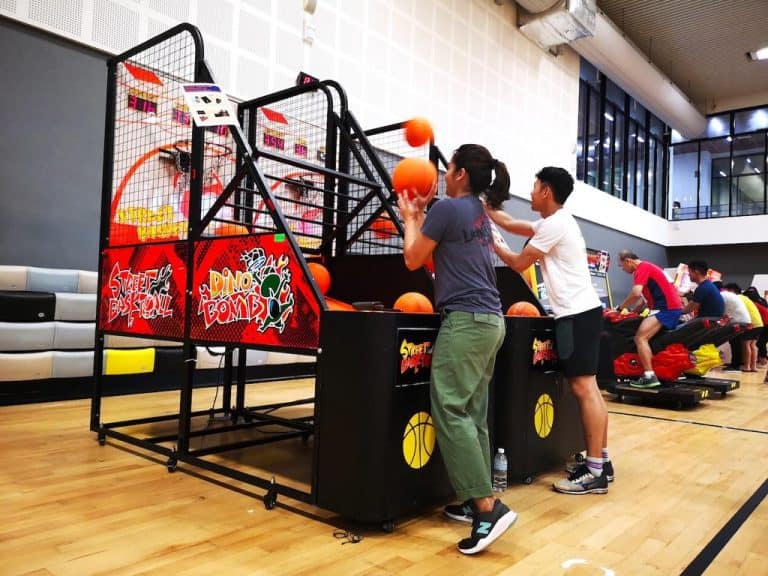 Whack a Frog Arcade Machine
Whack a mole has always been the classic arcade game for children. Enjoy whacking away on our version of Whack A Frog! The attractive look with LED lights can't go wrong at any types of carnival!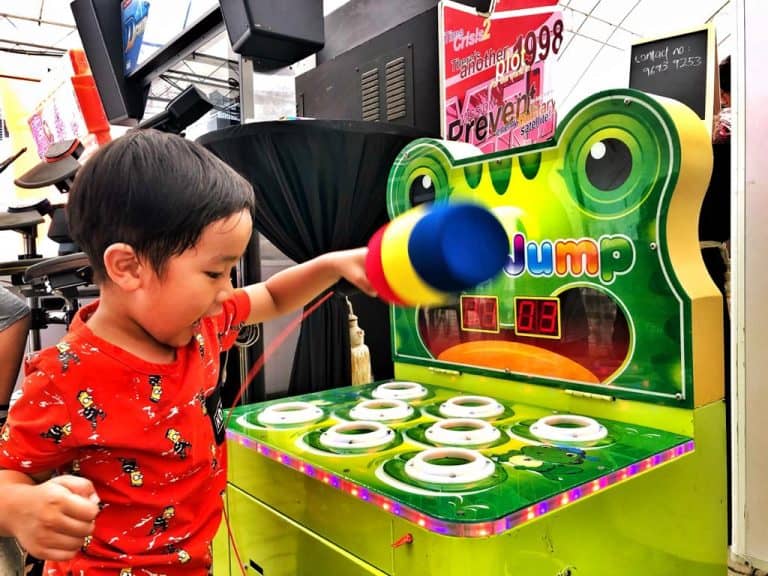 Naughty Bean Table Arcade Machine
An interactive and fun game that is suitable for kids age 4 and above! Suitable for 2 – 4 players, the players must hit on the buttons whenever it lights up. The one/team who hits the most lights win! Attractive table game with LED lights look amazing at any type of carnival event!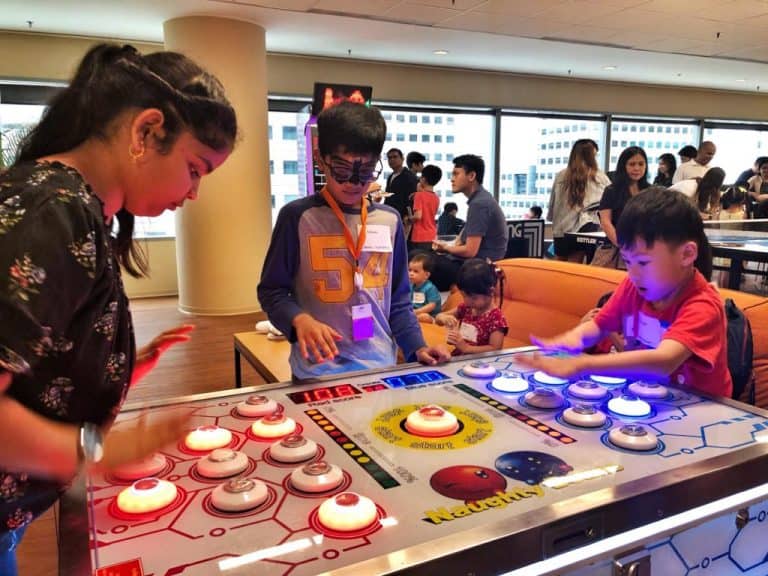 Video Arcade Machine
Feeling nostalgic? Embrace the past with our video arcade machine with a wide variety of games to choose from, you can be sure to find your childhood game that you once played in an arcade before!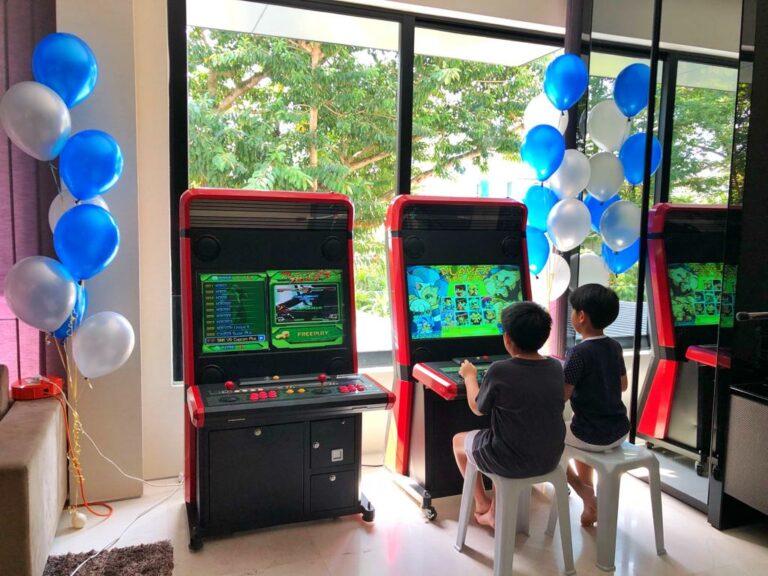 Dart Machine 
Our Electronic Dart Machine that offers the ultimate convenience of a high-quality dart machine with just a fraction of the cost. Its portable and convenient size is guaranteed to provide you and your guests with a world-class equivalent darts experience. Branding on our dart machine is also available!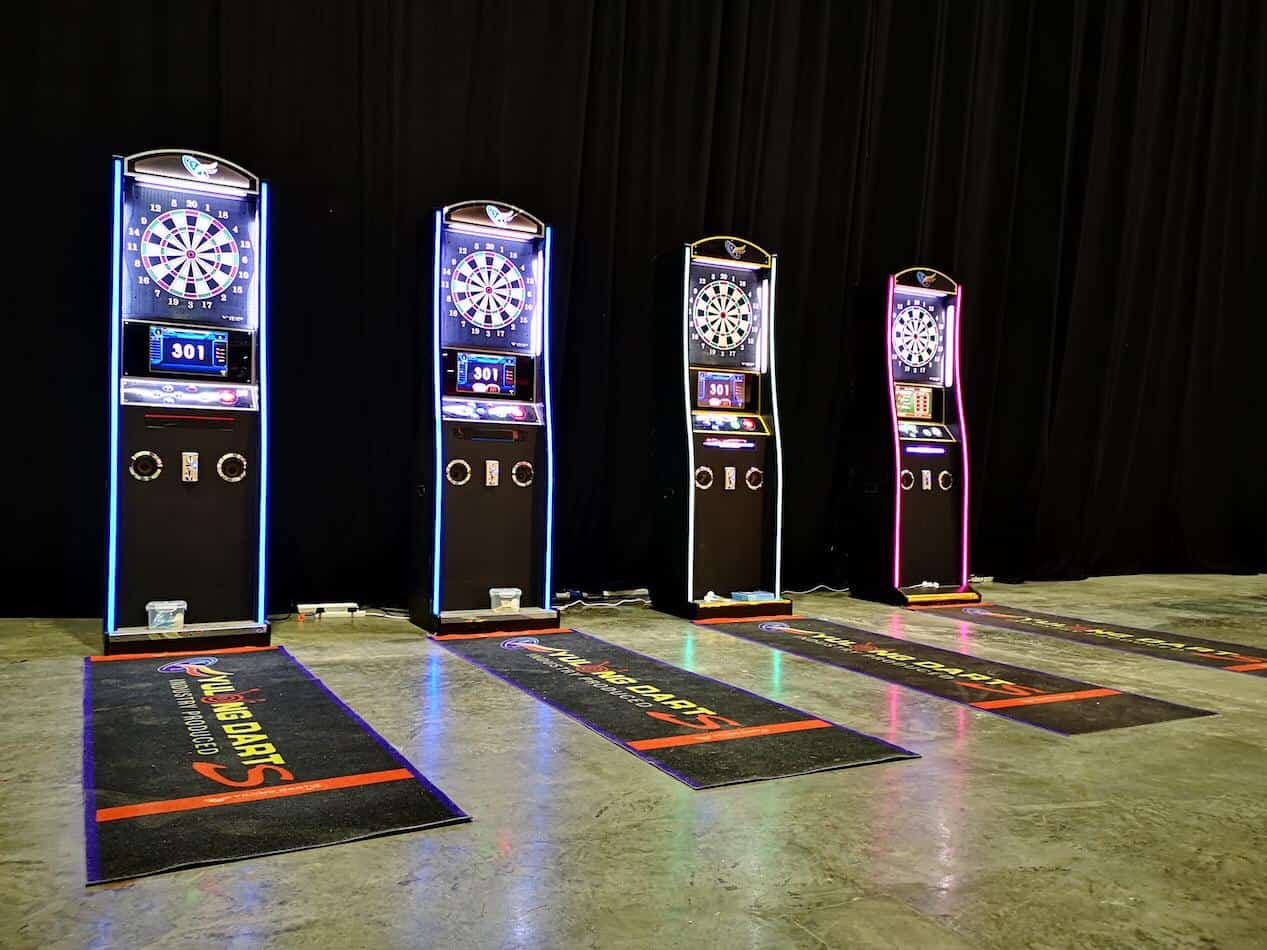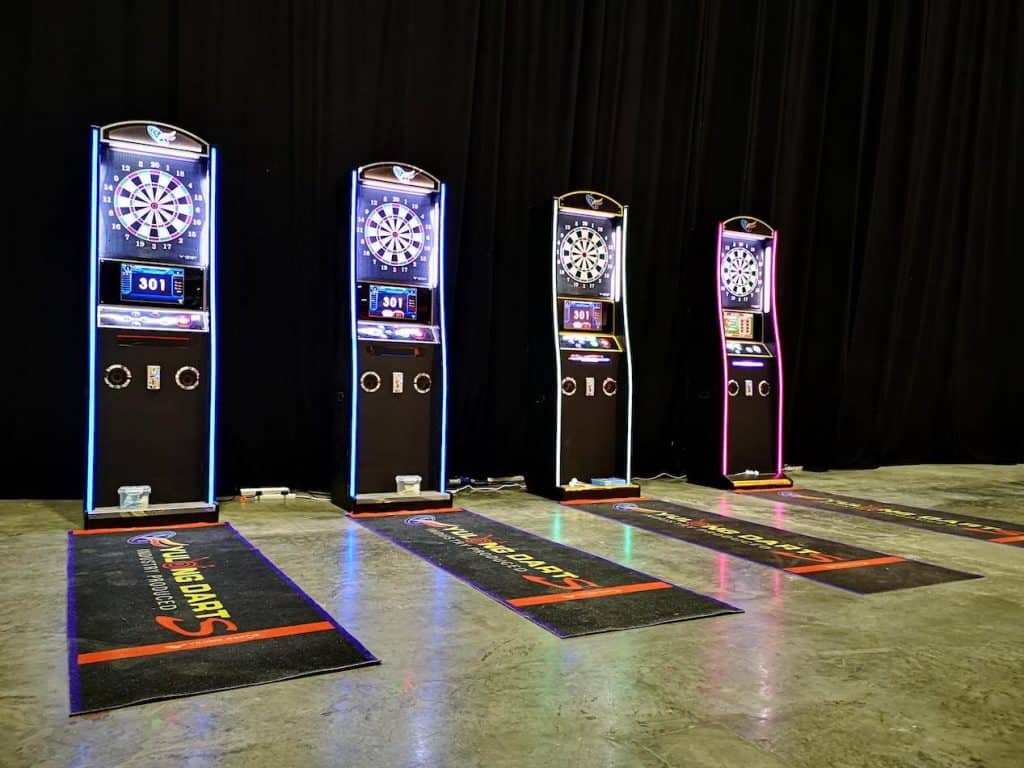 Bishi Bashi Arcade Machine
If you have played this game in the arcade before, you will know the fun and excitement it can bring to your event! Let your guest enjoy the famous Japanese game that guarantees fun and laughter in every single round!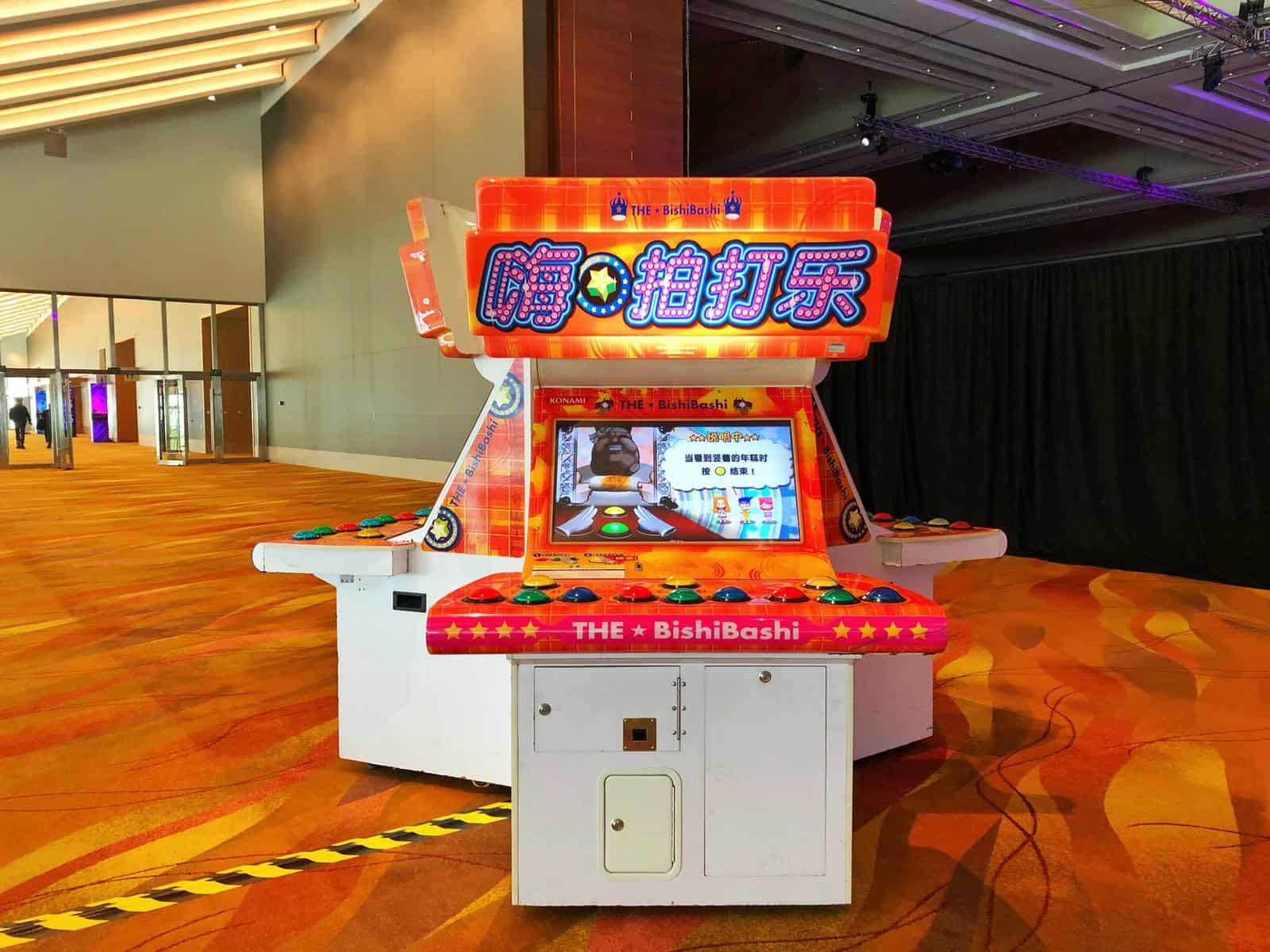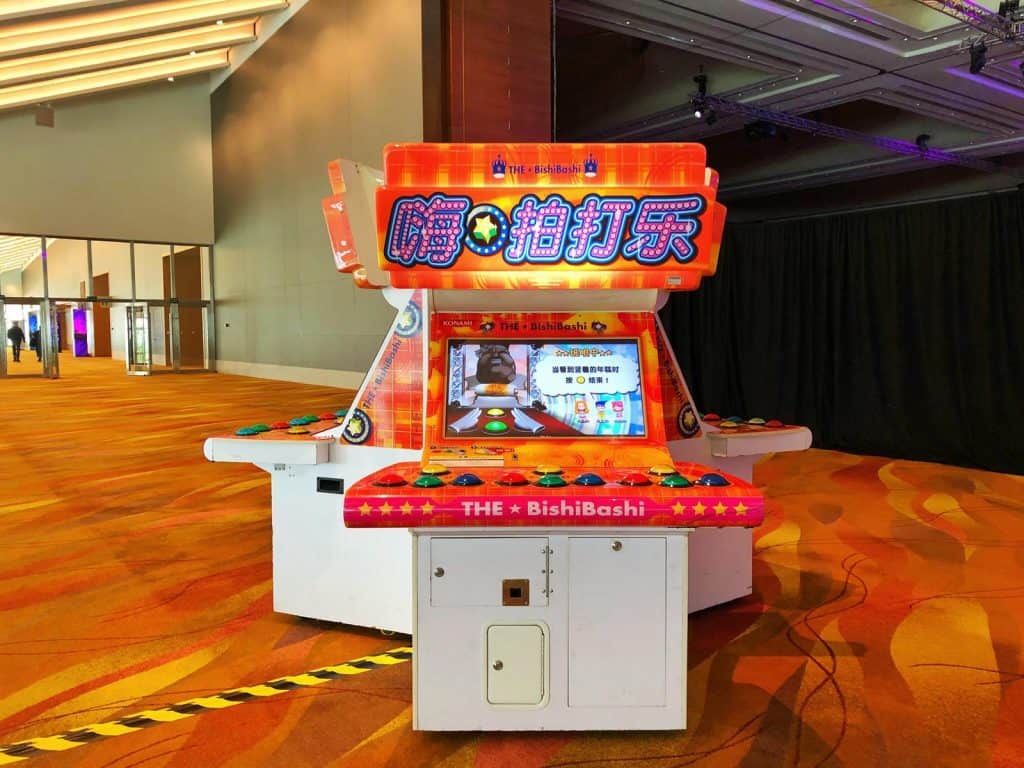 Taiko Drum Arcade Machine
One of a rare gem you can ever find! This retro Taiko Drum Machine has been well-maintained and brings back many memories when we were younger who can only play such game in an arcade centre! This version is one of the only few left in the world!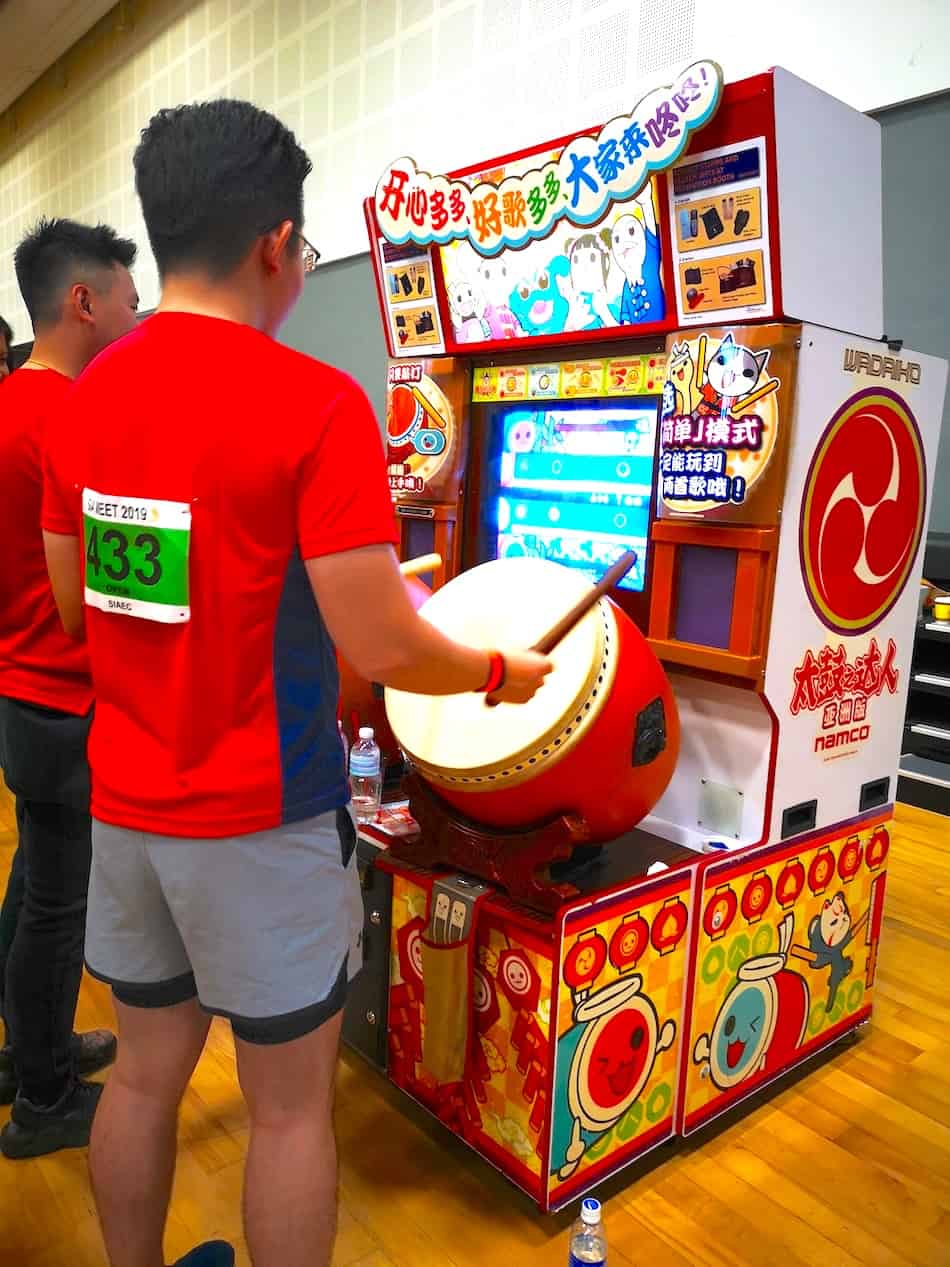 MANX TT Motorbike Arcade Machine
Looking for something more exciting than the usual Car Racing Arcade Machine? Why not get these rebel-looking motorbike arcade game for your event? (2 players)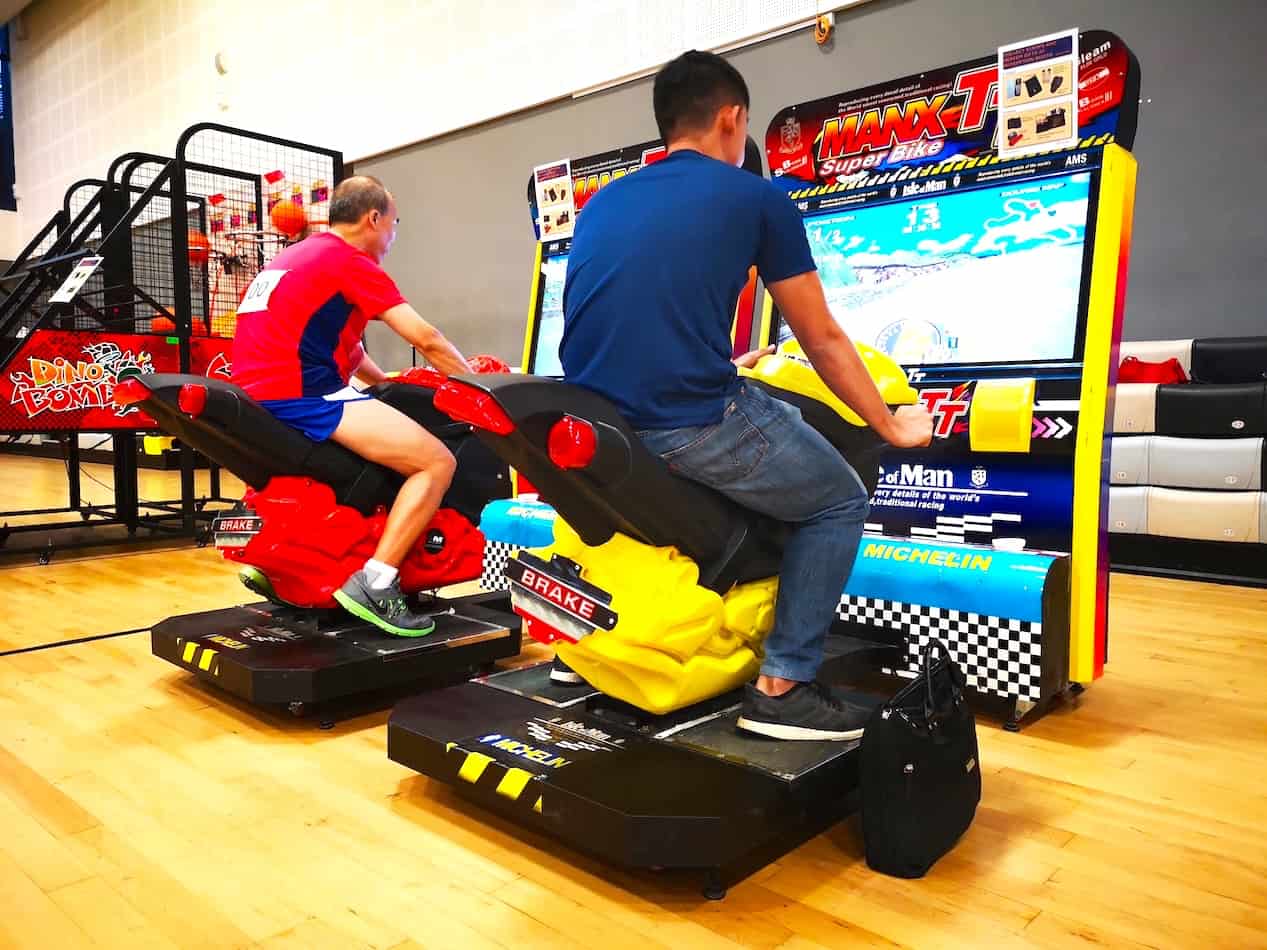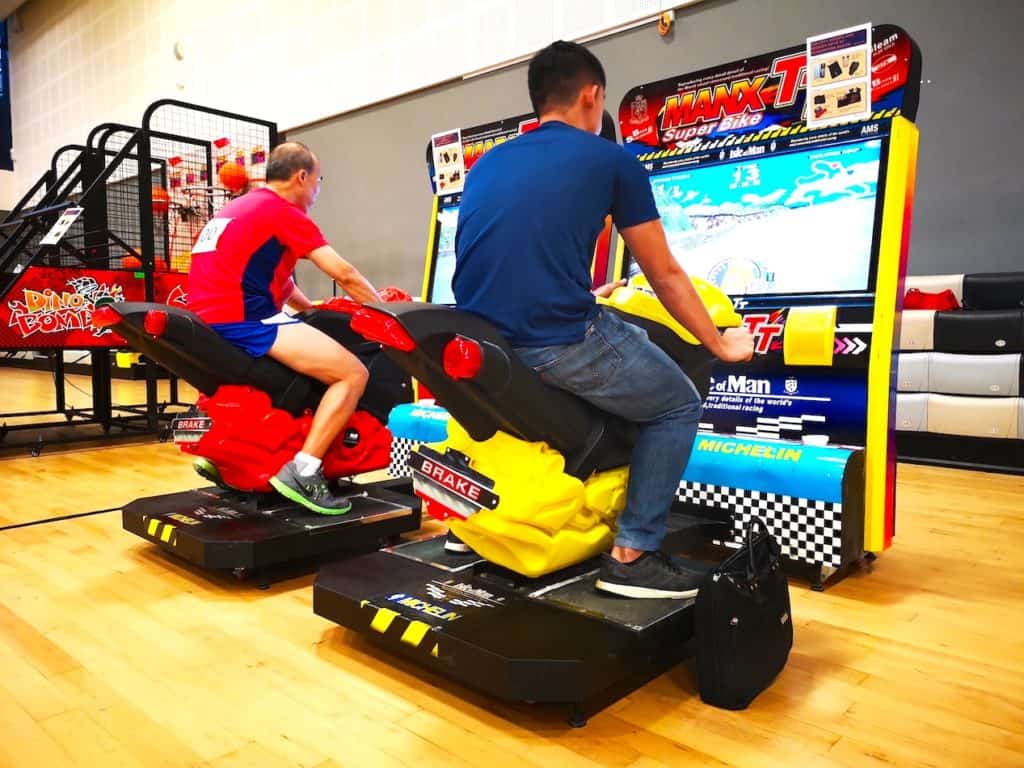 Mario Kart Racing Arcade Machine
Are you a fond lover of racing along with Mario? If yes, then you are surely going to fall in love with this evergreen Mario Kart arcade machine. Mario Kart is regarded as the best racing games related to Mario till now. It does not need much introduction as every one of you must have played Mario Kart racing in your childhood. You can challenge your friends and race along the funny and exciting racing tracks along with the various avatars.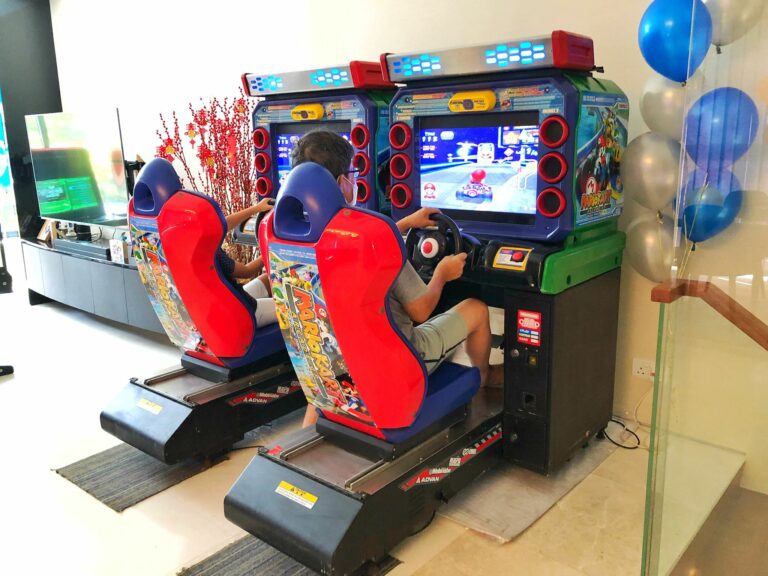 Daytona Deluxe
This is one of those arcade machines that every 90s kids have played before! Rent a Daytona arcade machine to impress your guest at your event today!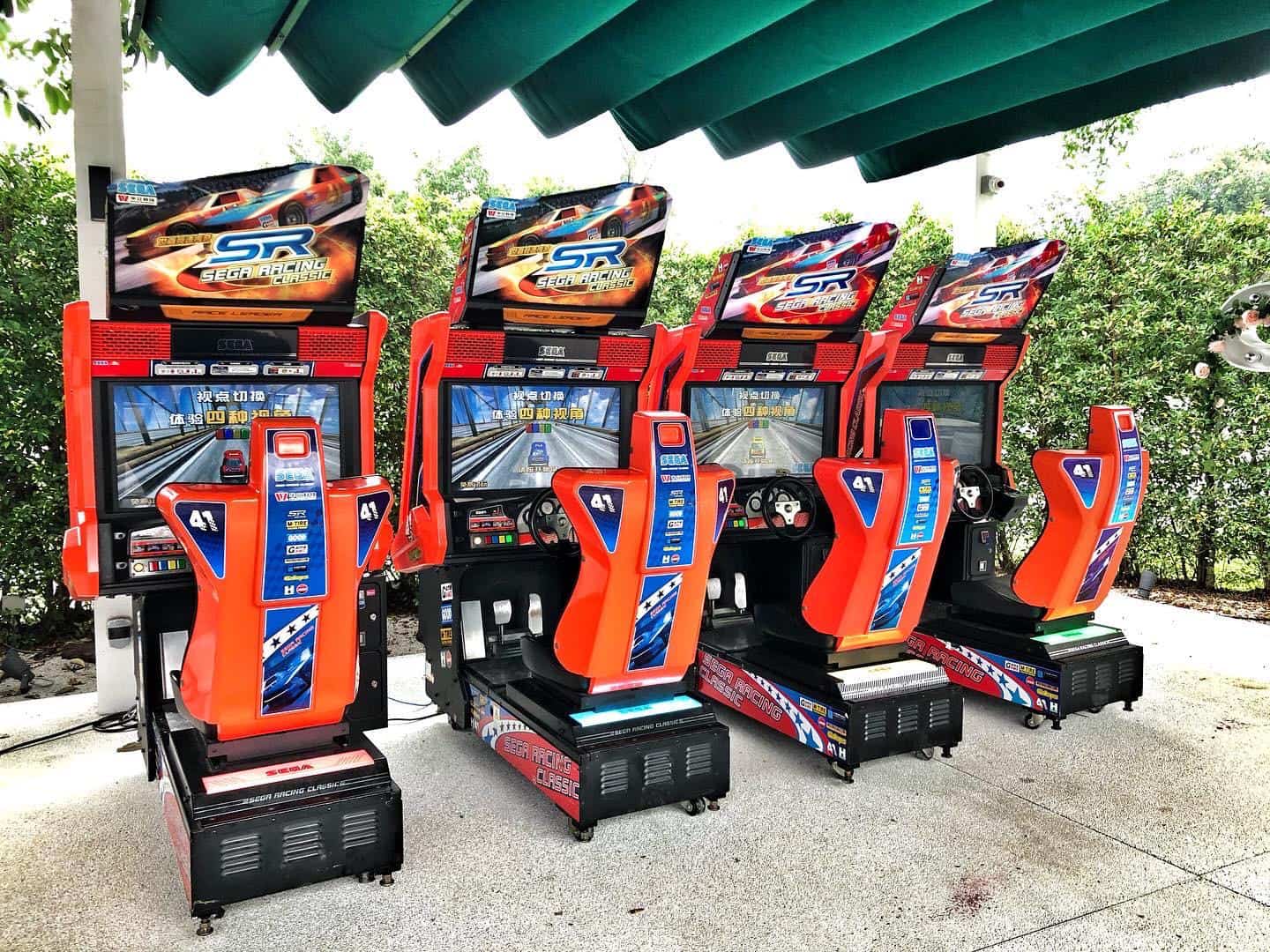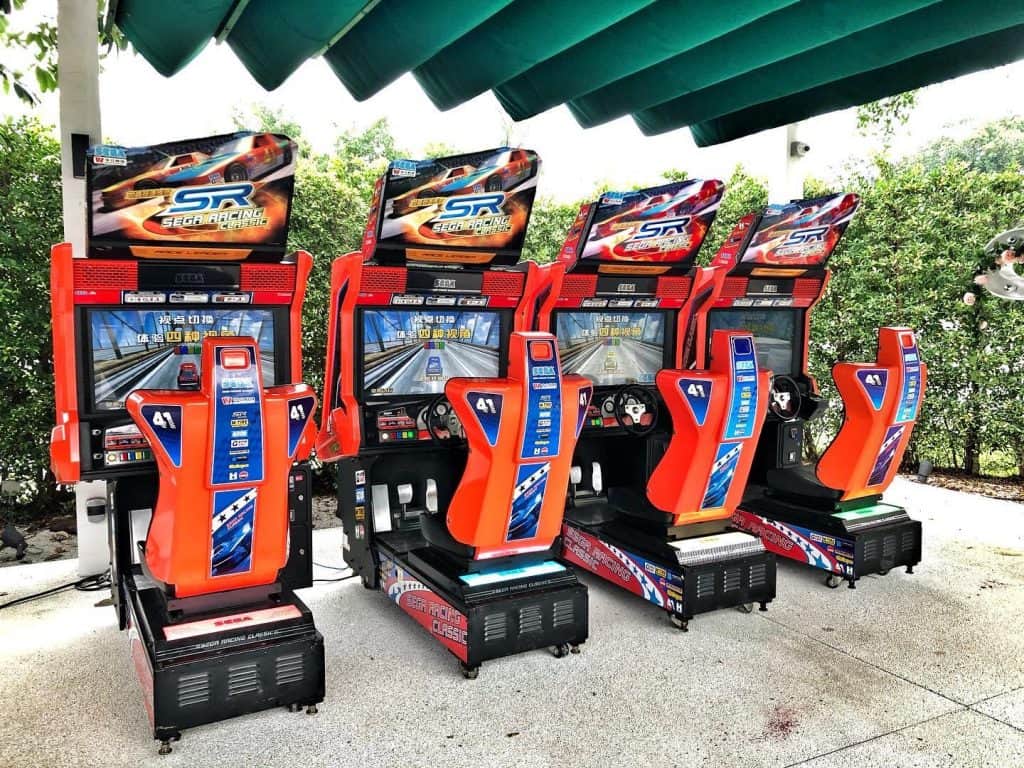 Alien Shooting Arcade Machine
It's easy and fun! We have seen kids as young as 10 years old to seniors (65 years old) who enjoyed shooting these aliens at an event!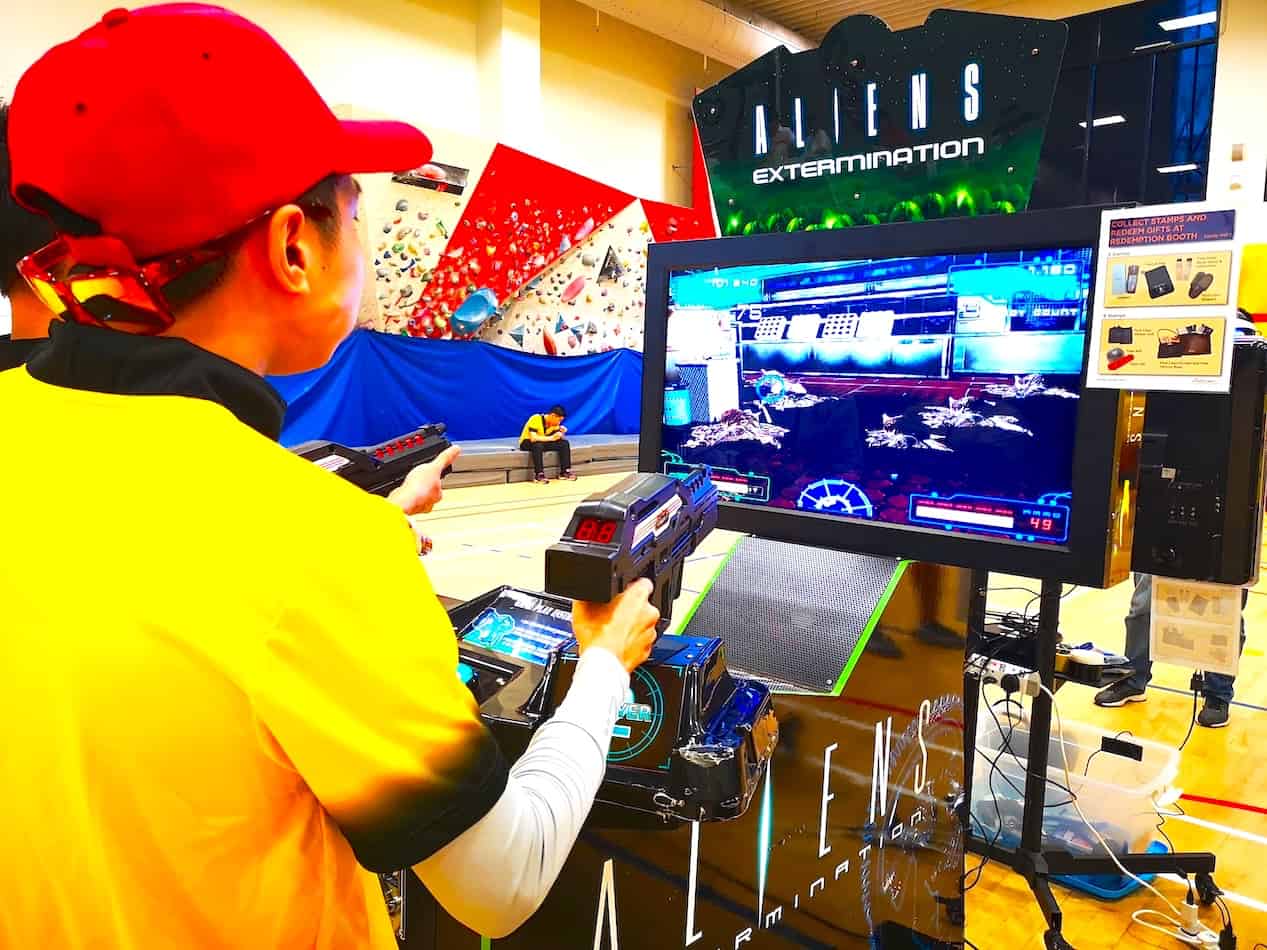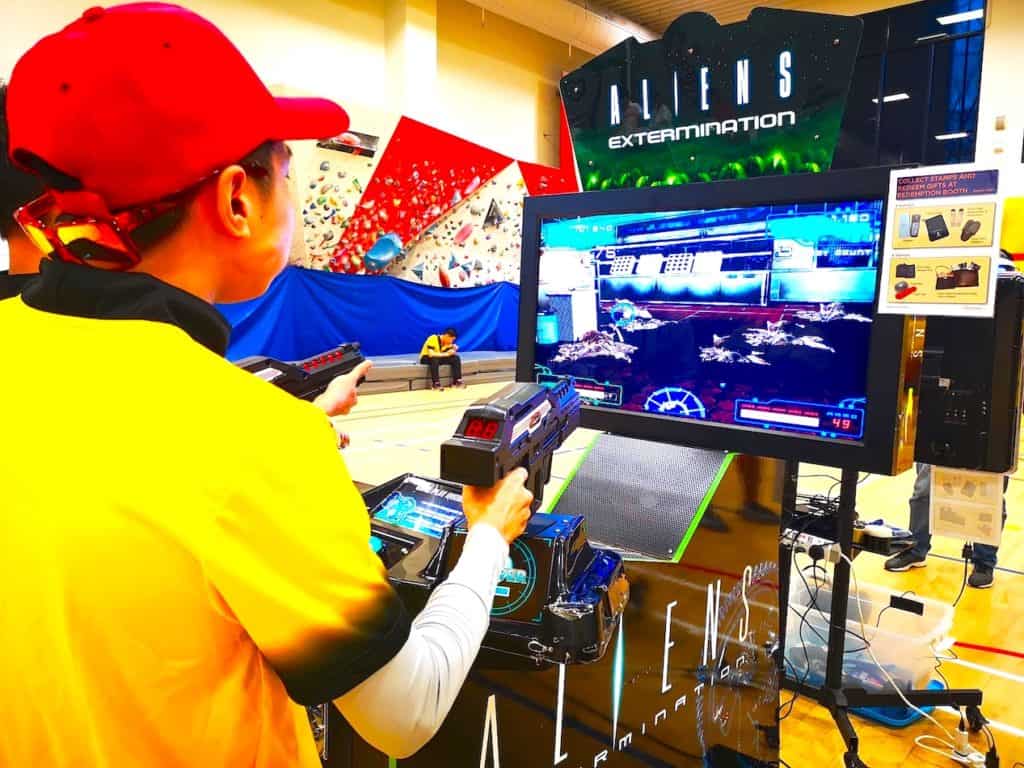 Spider Stompin Arcade Machine
Another rare gem that is still seen in the industry! Remember the good old days when we were kids stomping on these buttons? This arcade machine came all the way from USA and it's finally here for your upcoming events!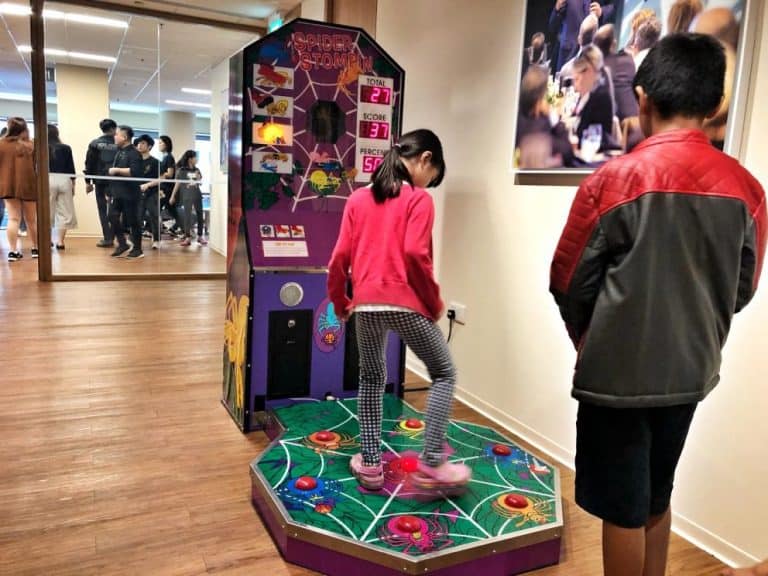 NX Dance Machine
Are you up for the dance challenge? We all know someone who can dance extremely well and why not challenge them to a dance challenge on our dance machine at your event today!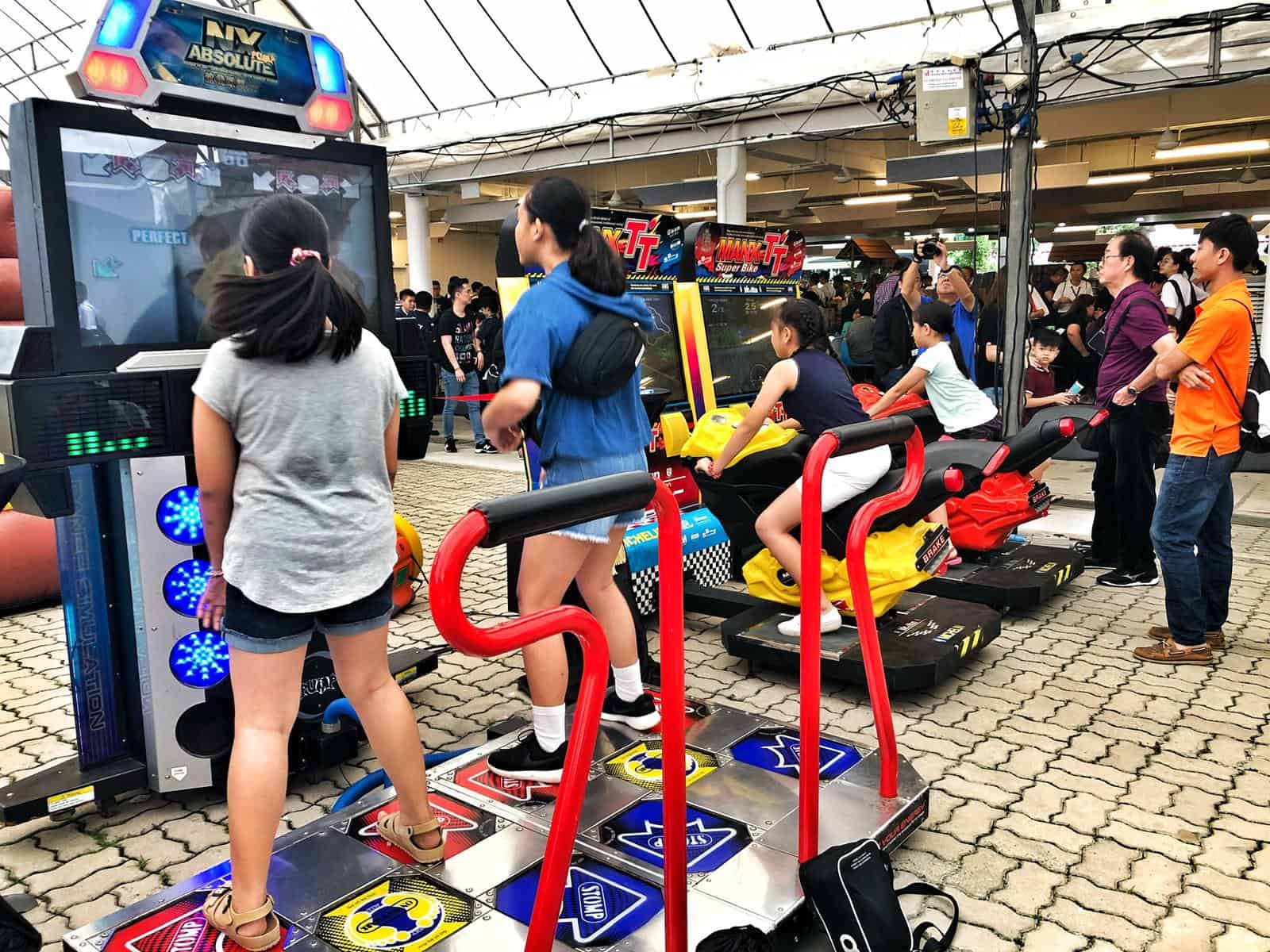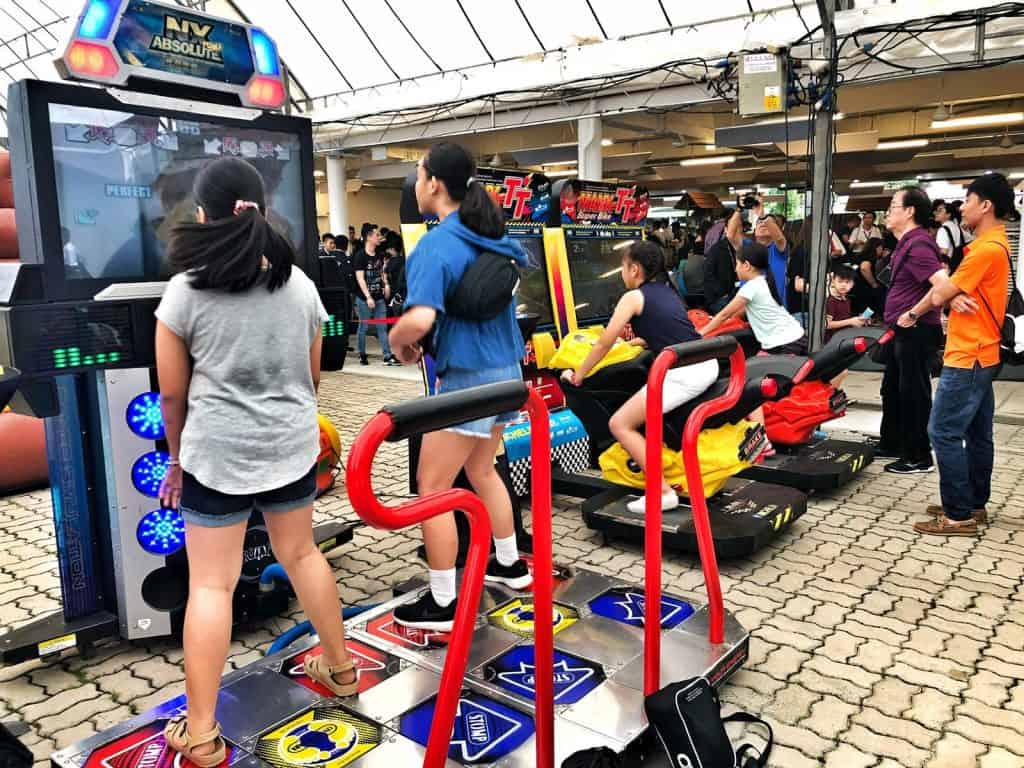 Hummer Extreme
Jump high and land with style on our Hummer Extreme where you get 2 game modes, 6 Hummers and 4 courses to choose from for an thrilling off-road race! "Time Attack Mode" is where you thrive for the best timing ever!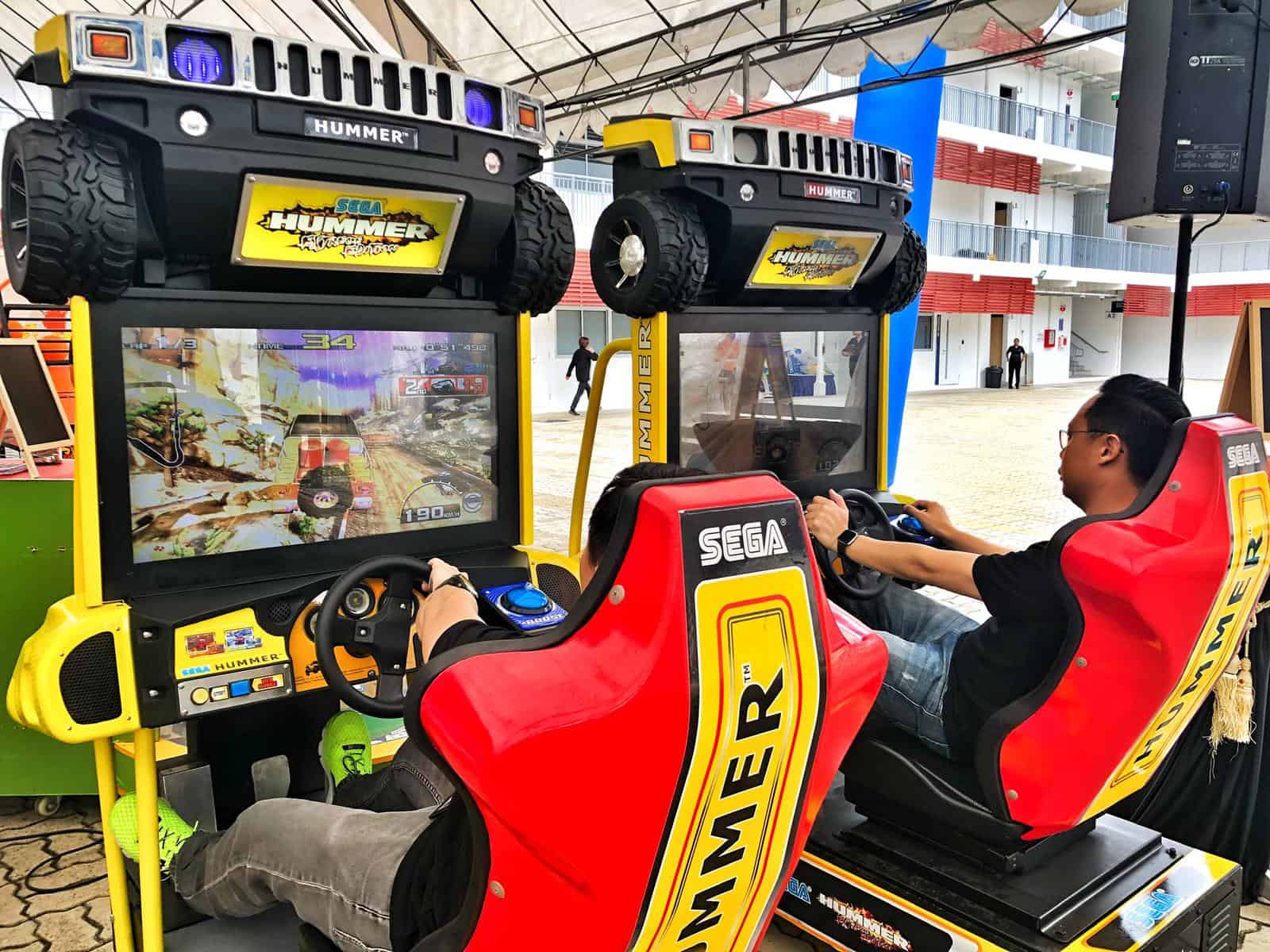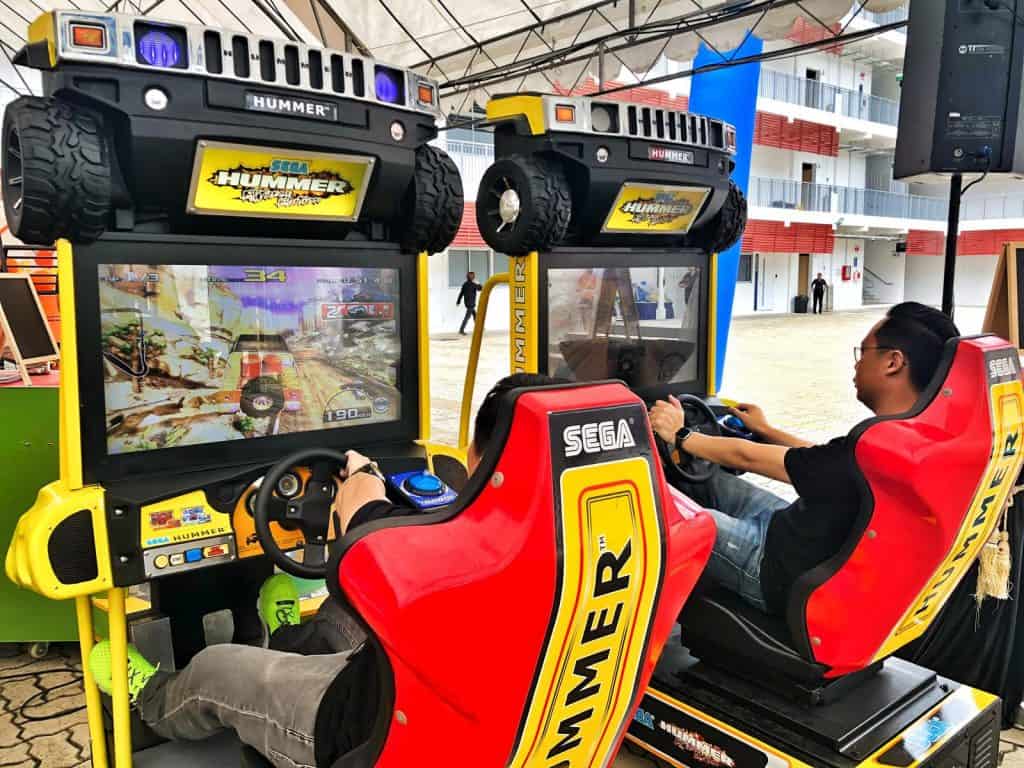 Arcade Batman
The first and only Arcade Batman Racing in Singapore, get one step closer relieving yourself from the Joker movie hangover and have a match with the best villain himself as you clear through various missions and boss battles!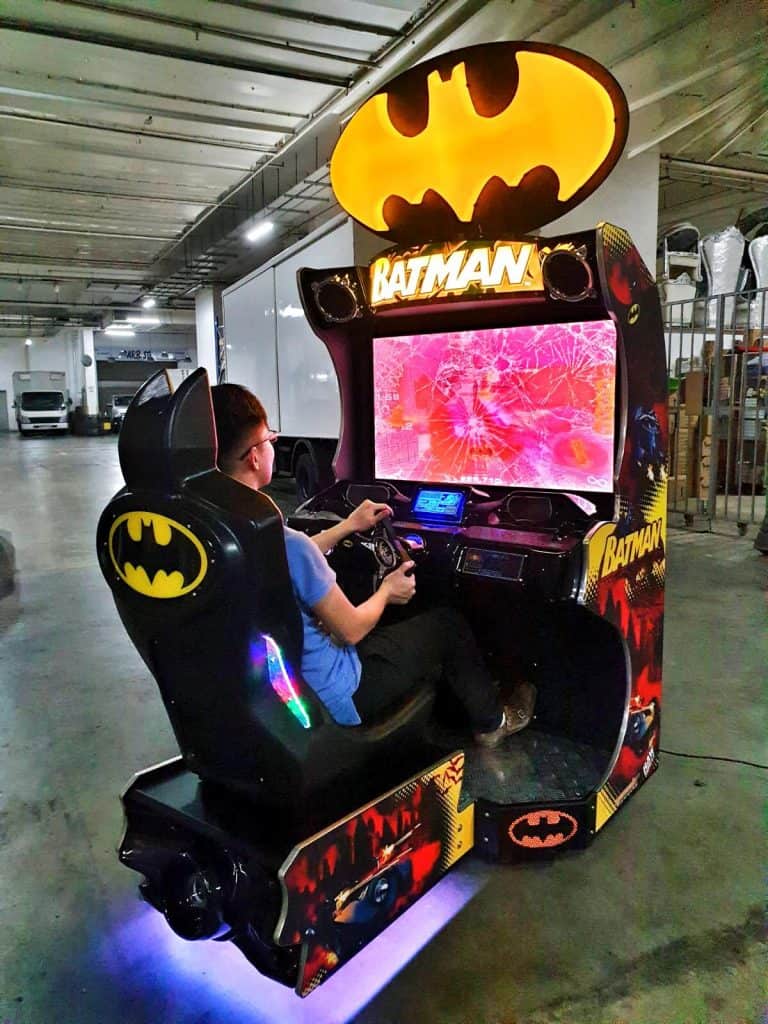 Fast Hand
One of the hottest agility game in China now in our hands! Put your hands & eyes coordination to the test where you challenge your friends to see who is the best catcher!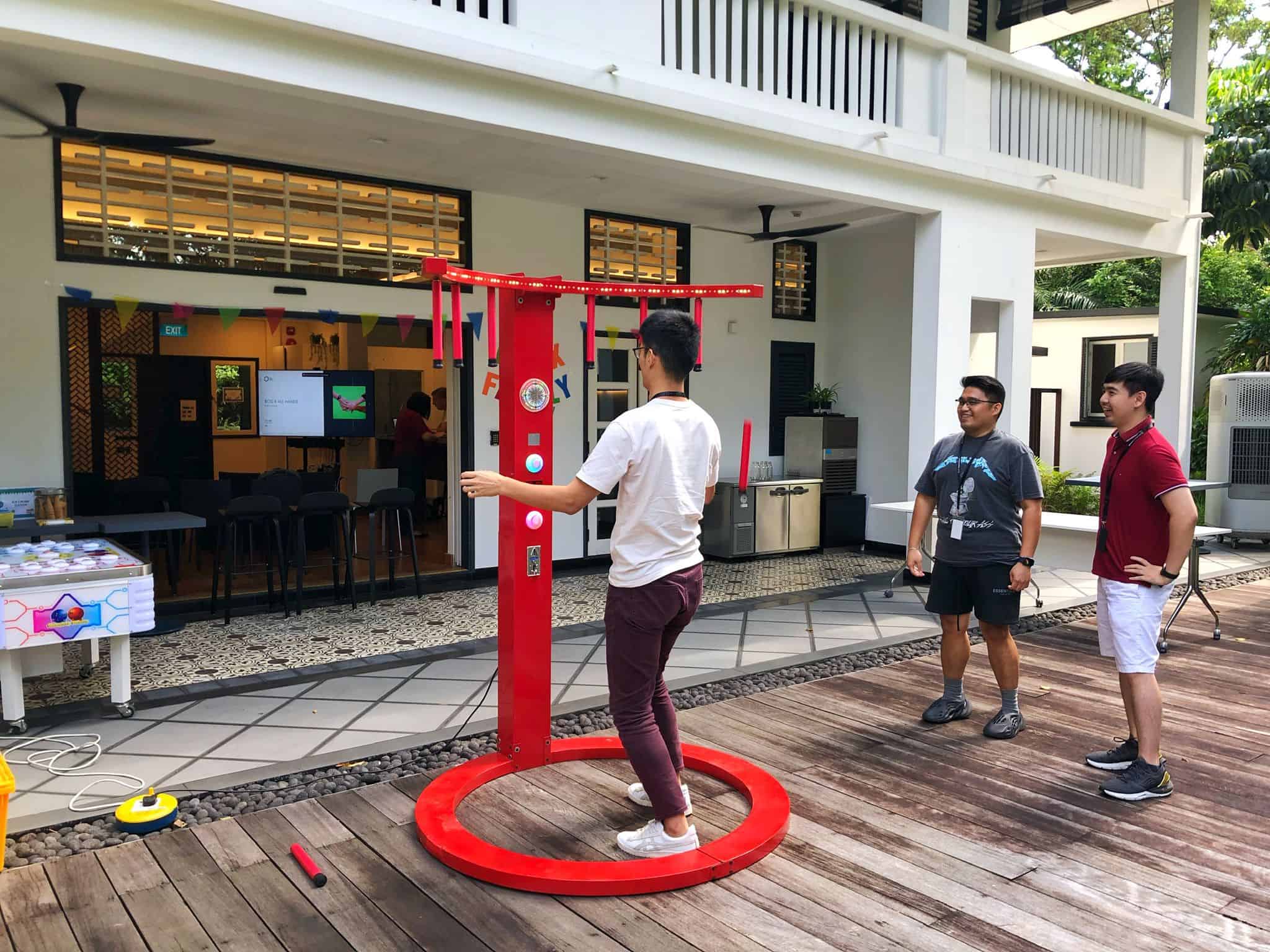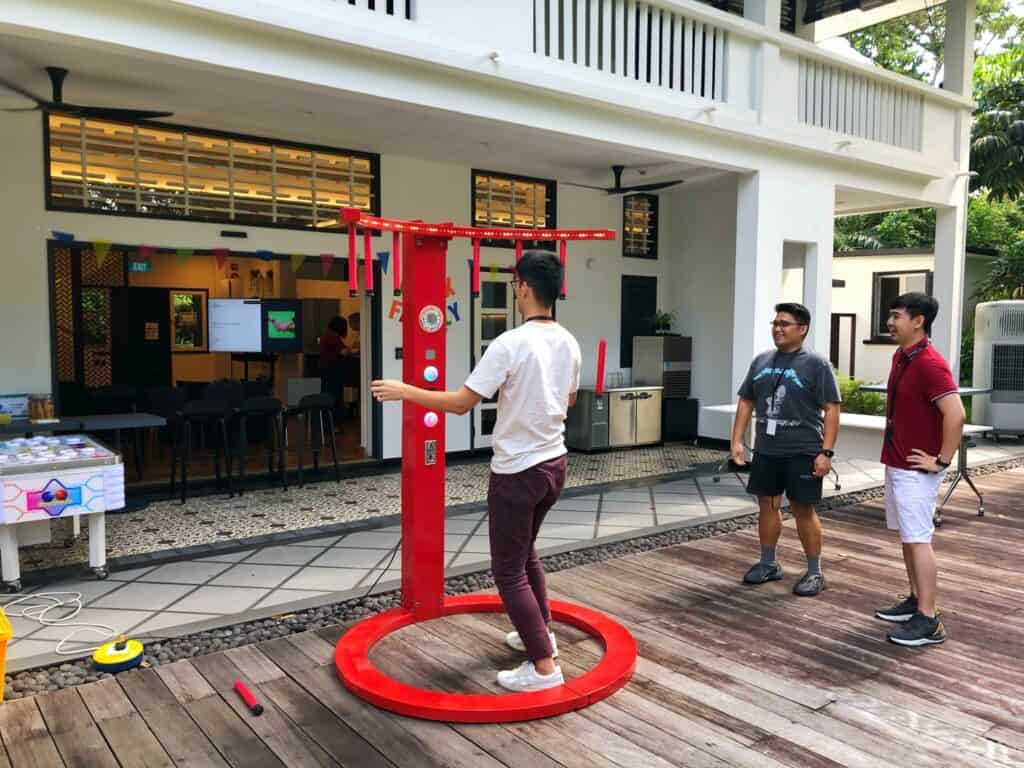 Air Hockey Table
Nonetheless, this is the best table to entertain your guest at every event! Host an air hockey match or simply leave it at your holding area to keep your guests entertained! Impress them today with our air hockey table at the most competitive price in the market!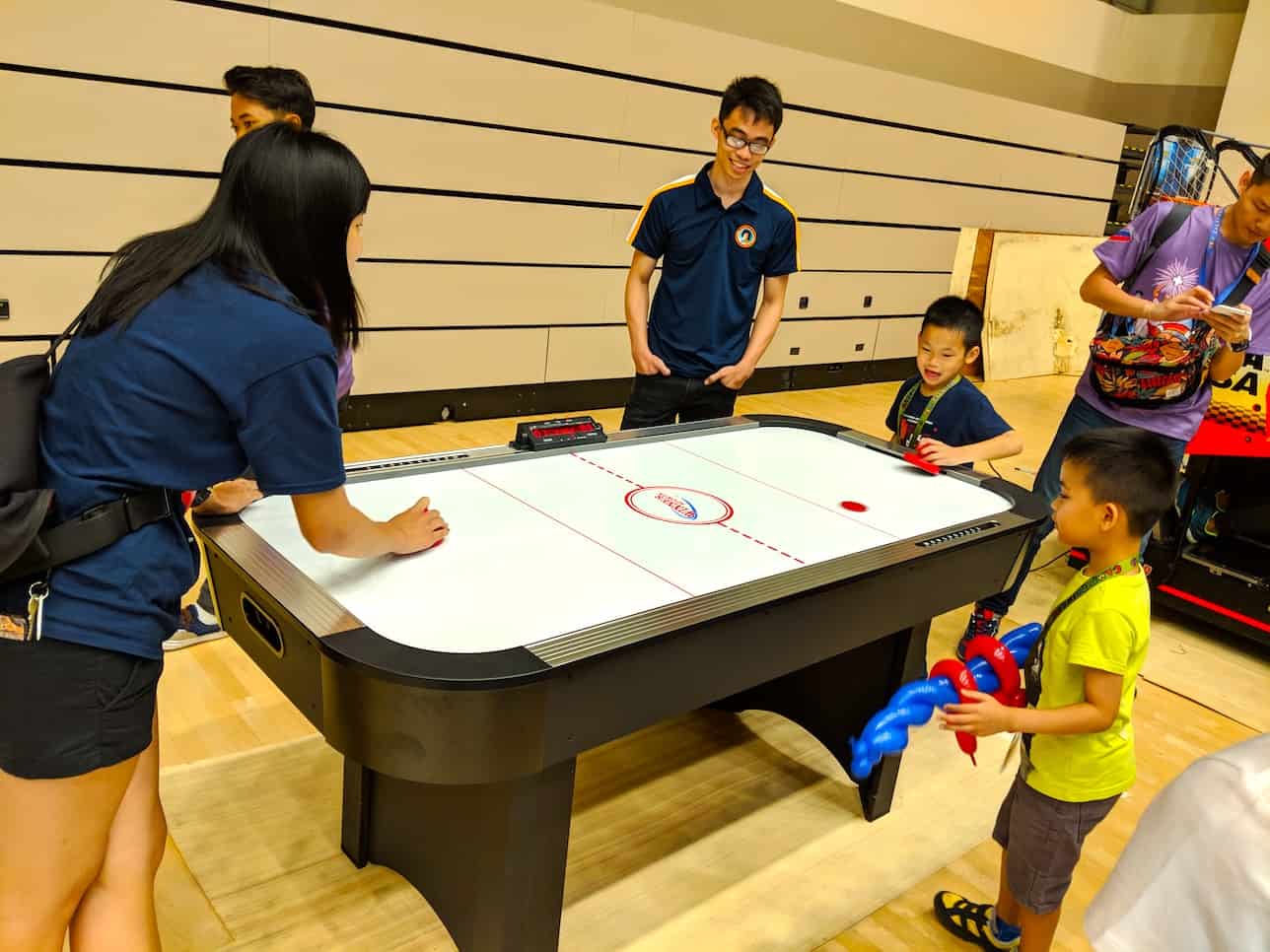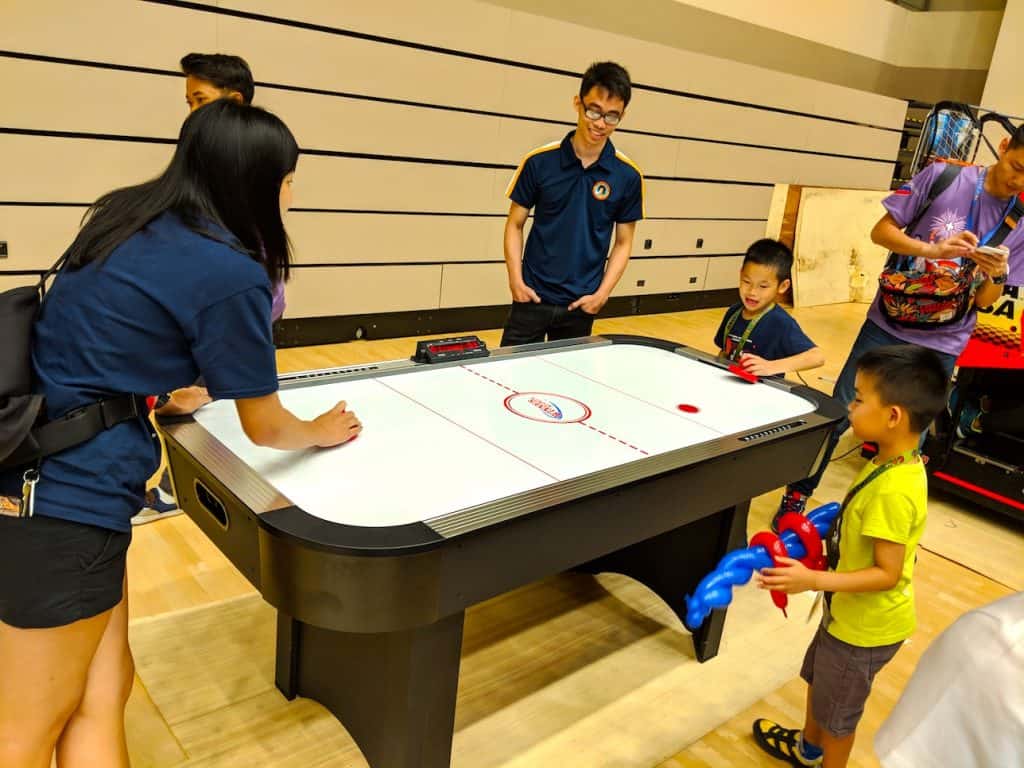 LED Air Hockey
Air Hockey table comes with awesome LED lights surrounding the cabinetry, pucks and strikers for a truly incredible playing experience. Visually stunning all round.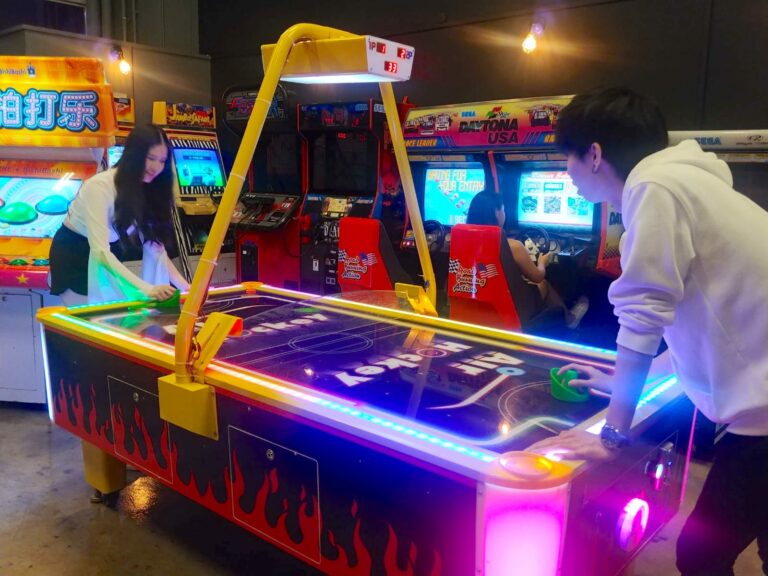 Initial D Racing
This is based on the popular Japanese manga series of the same name, where players get to jump into the world of Japanese street racing. The game showcases characters and story from that series along with their rivalries as they battle it out along a variety of treacherous mountain courses. Learn the art of drifting to get ahead and become a true ?Legend of Speed?. With 8 courses and multiple weather conditions, this makes for 64 racing variations you can experience! You can also race in the classic ?Time Attack? mode just to see how you handle the roads.
This edition of Initial D added new licensed cars, new rivals, new music, new roads and new weather conditions. It is generally considered to be one of the best entries in the series. Players can also store their race points on the Initial D memory card and use these points to tune up their cars. This provides an excellent incentive to come back for more!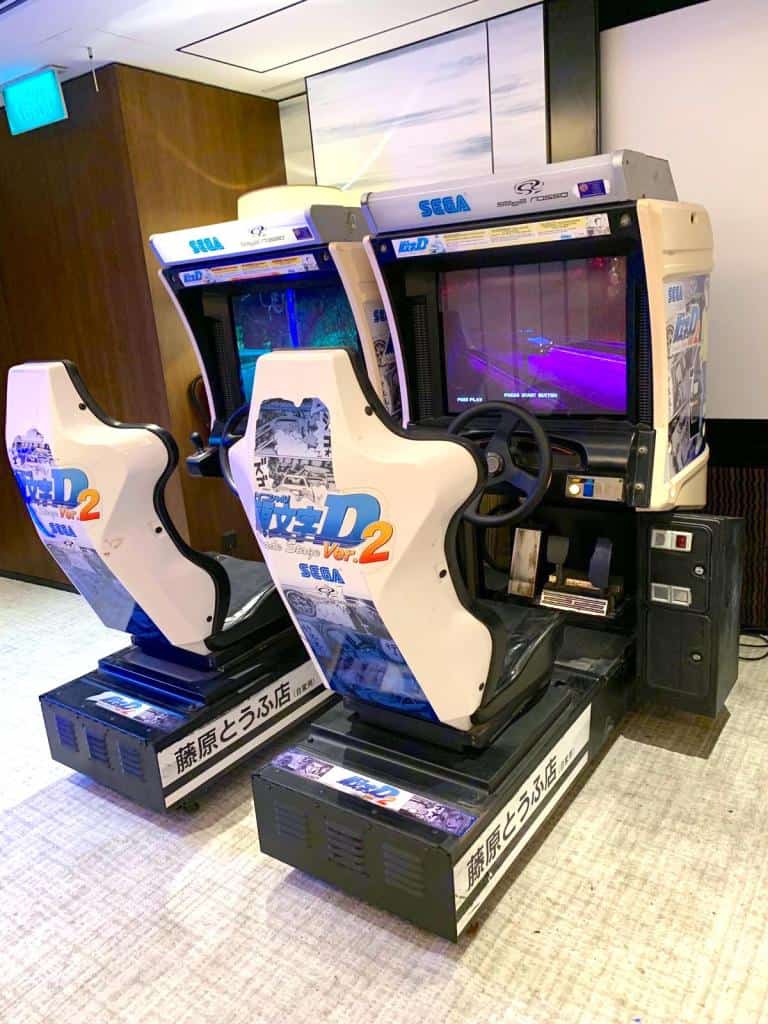 House of the Dead
Players assume the role of special agents fighting their way through a haunted mansion filled with crazed zombies, chainsaw-wielding "Undeads" and other nasty creatures coming at you from the deepest, darkest corners of Dr. Curien's Mansion, with these loathsome creatures are hell-bent on destroying mankind – that is unless you destroy them first. As a special agent, your mission is to wipe out the zombie menace and stop Dr. Curien's latest successor from carrying out his evil plans.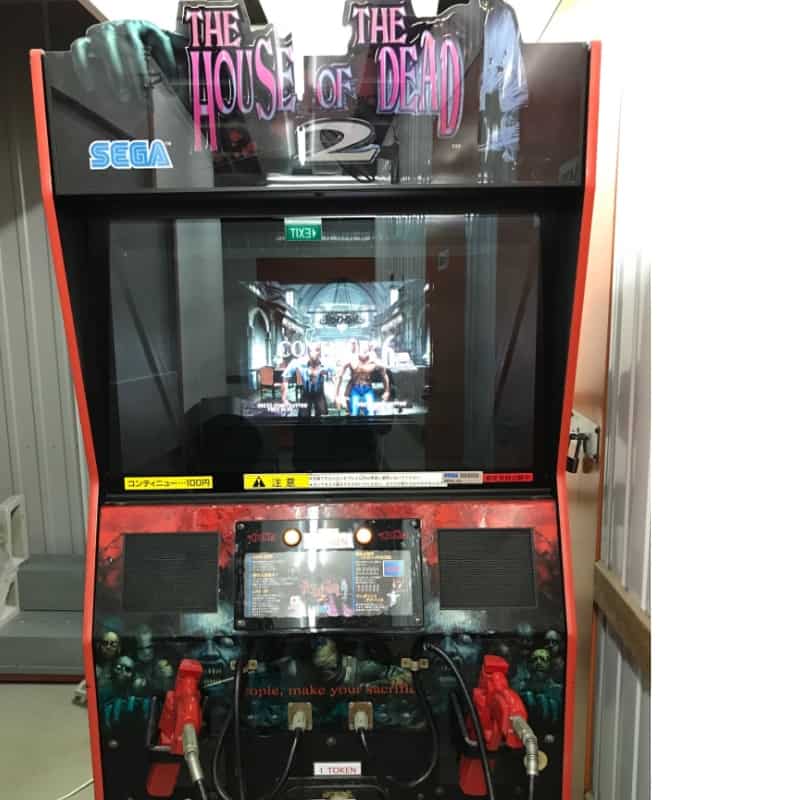 Time Crisis 2
Following up on the wildly popular Time Crisis 2, this sequel takes the tried-and-true formula that made the series what it is and builds on it.
Time Crisis 3 offers twice the length in game time as Time Crisis II while also introducing a weapon select system. Different weapons have different effects depending upon the enemy that you face. Weapons include: the standard 9-round handgun (unlimited ammo); a shotgun; automatic machine gun; and a grenade launcher. All weapons rewire ammo pick-ups excepting your standard pistol. With enough experience, players can figure out which selection works best and when. Enjoy the solid earnings that this series offers in your arcade or spice up your event!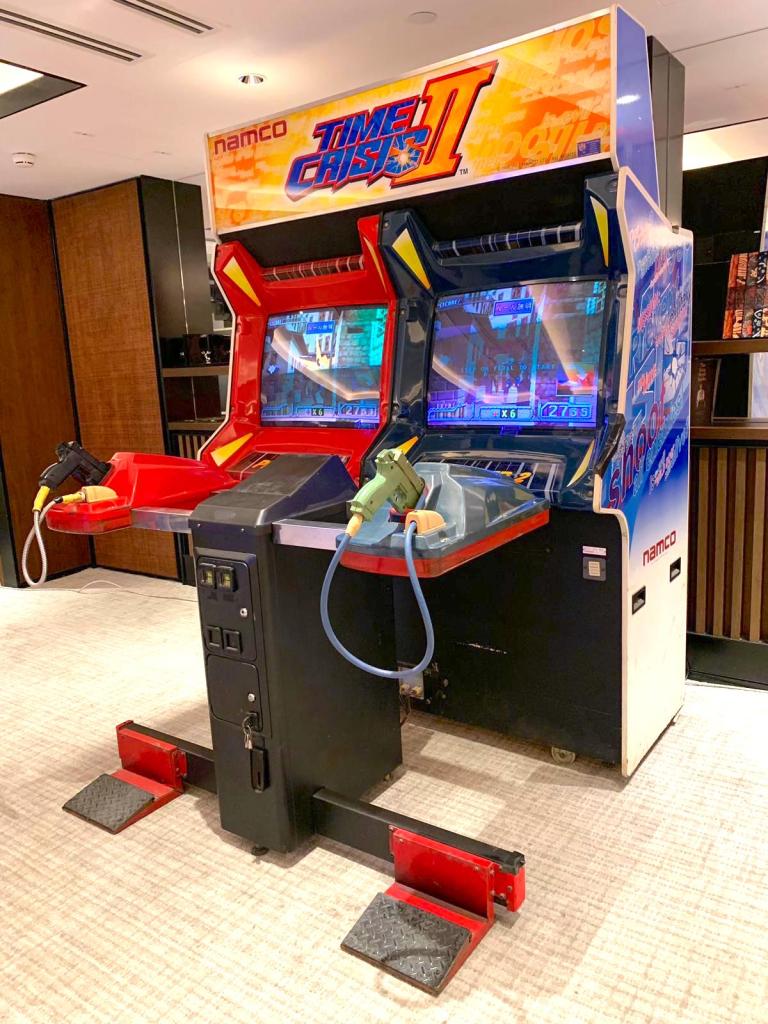 Time Crisis 3
Just like in the original, the game takes the players through different levels. They must blast all the bad guys in each area before time runs out. Fortunately there is a special pedal, which you step on to pop out of hiding so you can fire back, then release to go into hiding (and to reload your gun.)
You also have the option to play alone (SOLO PLAY- locks out second player) or have a friend join you at any time (LINK PLAY) after depositing credits. The President's daughter is in trouble, so save her! You and a comrade progress through each of the game's different levels. After a short animation, you're placed right in the middle of combat, with enemies firing at you from afar (or up close). Start blasting all the enemies on screen, but watch out! You only have a limited amount of time to finish each level. If you run out or are depleted of all your health supply, it's game over!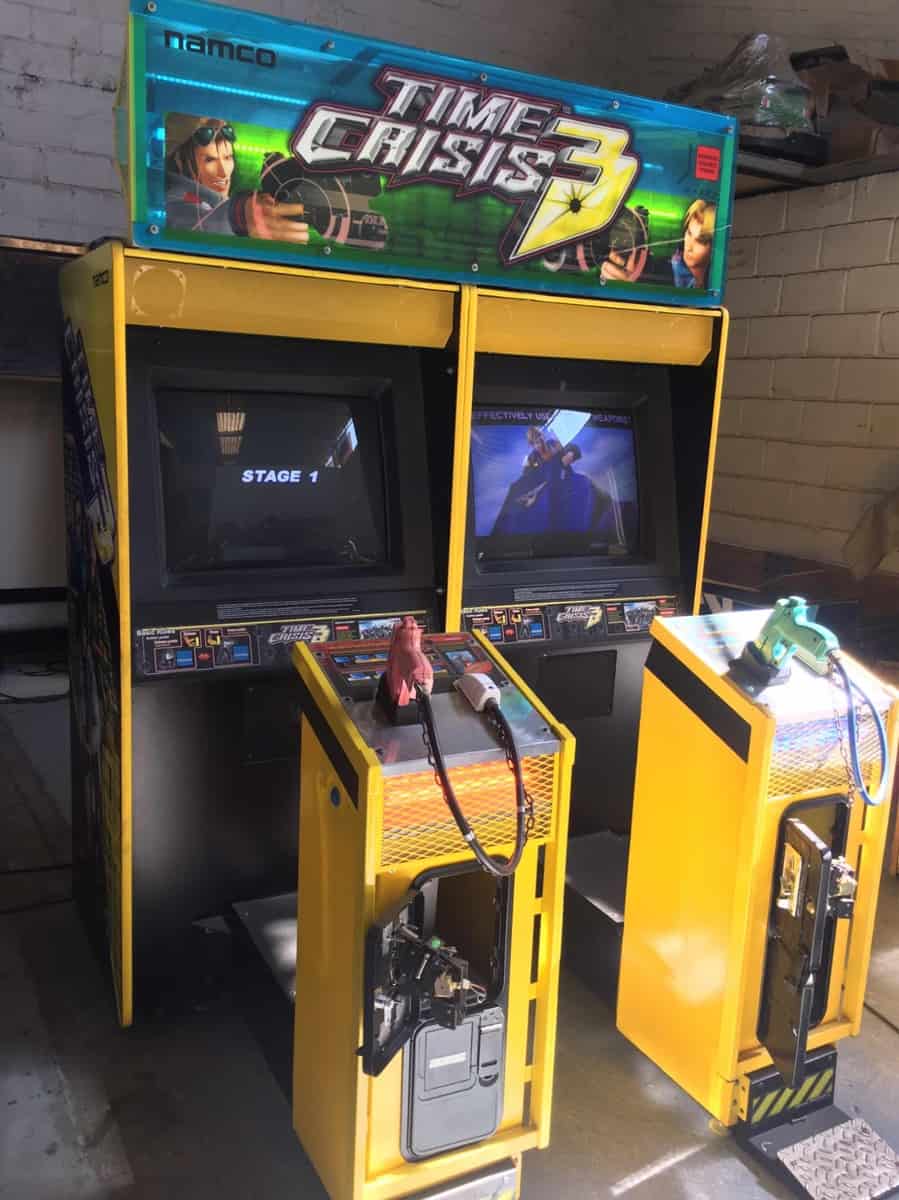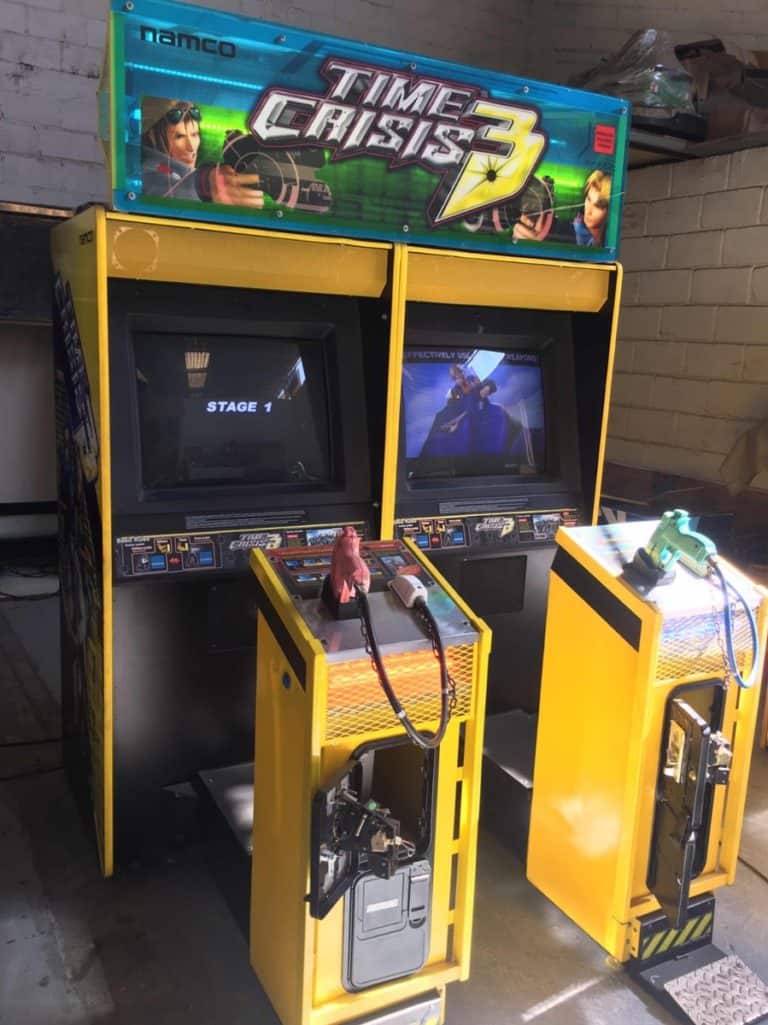 Retro Video Arcade
80's Retro Arcade Game -Some things just get better with time. Nothing compares to the arcade originals. With 31 officially licensed classic games, re-live the glory days of the arcade. Gather around with friends and family to experience the look, sounds and feel you can only get with the real thing. Share old memories with friends and family and make new ones for years to come.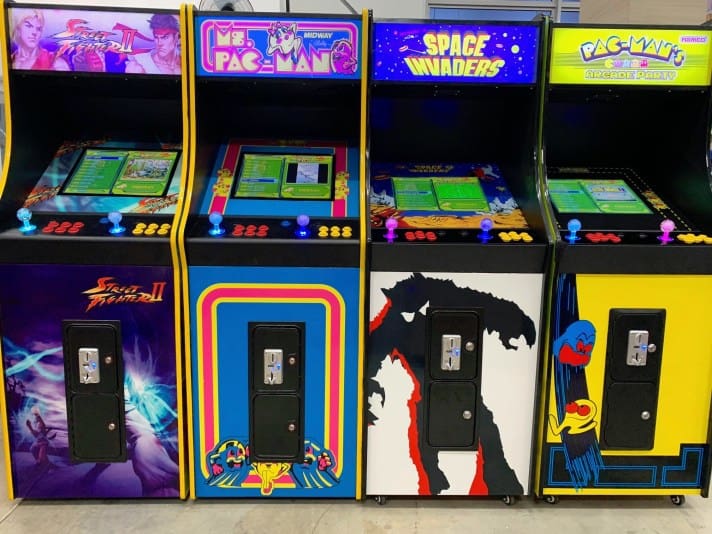 Digital Pinball
Players will rock to nine famous Aerosmith hits in the concert arena playfield and embark on an exhilarating pinball experience. Players score points and finish game objectives to raise the audiences levels of energy, thrill and enjoyment. Higher scores amplify the experience the higher the energy level, the bigger and louder the show resulting in an pinball experience that cannot be matched.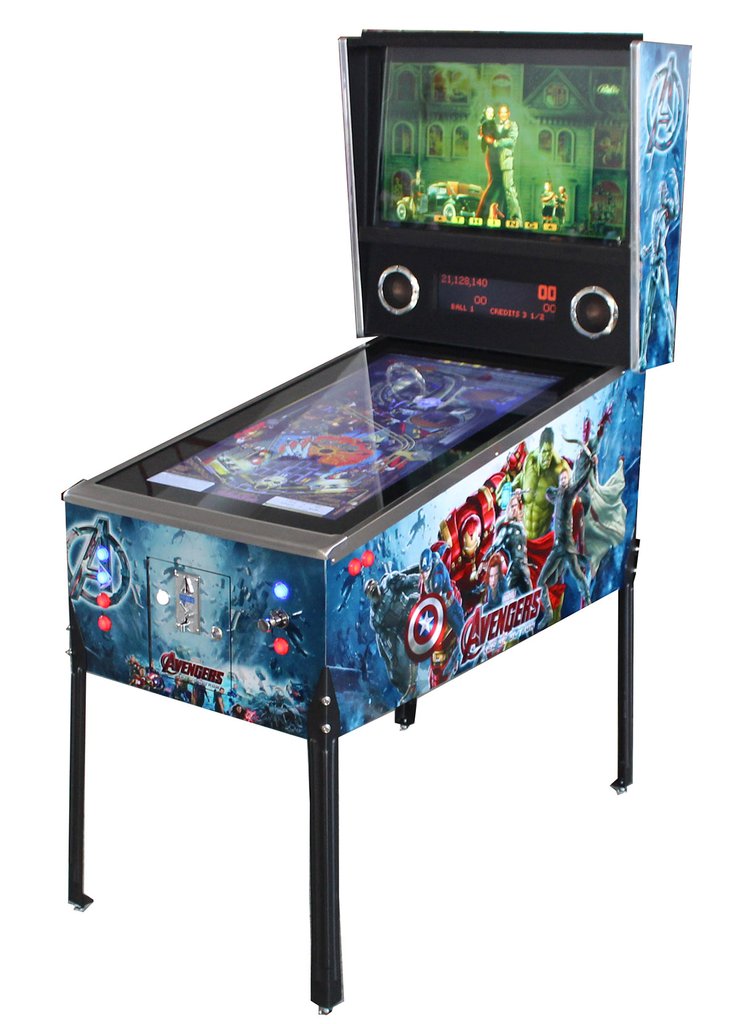 Guitar Freak
Form your own band with the latest Guitar Freaks XG3 Arcade Set! XG3 is latest edition for Guitar Freaks series by Konami, featuring a brand new song list with over forty songs. The pinnacle of music simulation games, the XG3 also comes with 10 new and customizable Avatars to choose from.
The latest Guitar Freaks Guitar features five button control at the neck of the guitar and joysticks on the body to simulate the frets and the strumming of a real guitar.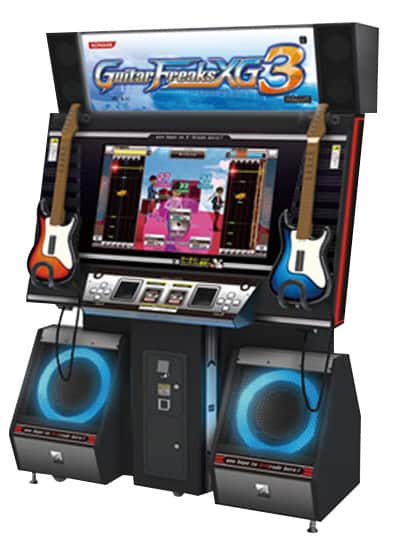 Drum Mania
Form your own band with our Drum Mania Arcade Set!
Drum Mania is the first edition for Drum Mania series by Konami. The pinnacle of music simulation games, providing a retro feel to your event space.The Drum Mania includes two drum sticks to simulate the beating of a real Drum.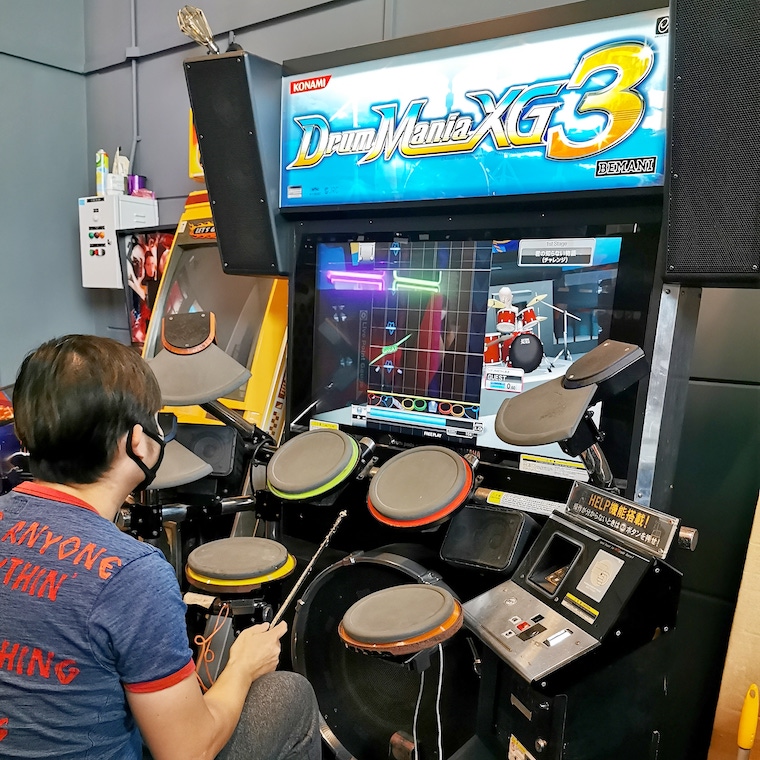 Arcade Bowling
Arcade bowling bring out the bowler in your little guests! Kids will enjoy this arcade edition of bowling with jungle themed animation.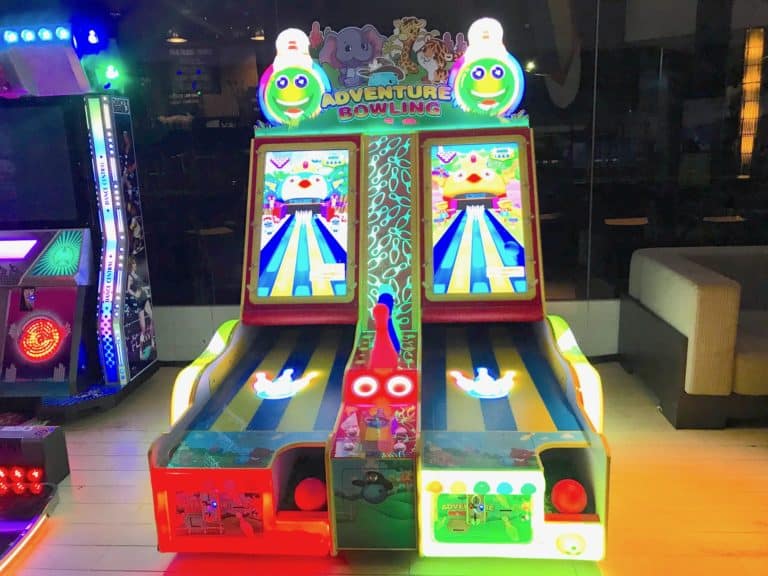 Contact us for the complete price list of our arcade rental! Here's a list of our arcade game machines:
Whack A Frog
Spider Stompin
Taiko Drum
Foosball Table
Air Hockey Table
LED Air Hockey Table
Pool Table
Naughty Bean Table
Video Arcade
Standing Video Arcade
Telephone Booth Claw Machine
LED Claw Machine
King of Hammer
Ultimate Punching Machine
Bishi Bashi
Crazy Taxi
Jumbo Safari
Alien Extermination
House of the Dead
Children's Basketball Machine
Arcade Basketball Machine
Darts Machine
Crisis Zone
Time Crisis 1
Time Crisis 2
Time Crisis 3
Arcade Batman 
Hummer Extreme (2 players) 
Daytona Deluxe (2 players) 
Initial D machine (2 players)
Mario Kart Machine (2 players)
TT Manx Motorbike Racing (2 players)
Fast Hand 
Golden Key Pusher
Cubix Up
Lipstick Game
Palm Reading Machine
Arcade Cash Flow Machine
Drum Mania
Guitar Freak
Arcade Bowling
Digital Pinball
Dance Central 3
DDR Dance Machine (2 players)
NX Pump It Up Dance Machine (2 players)
Why choose our arcade machines?
Cheap Rates. Rent Direct and SAVE!
Well-Maintained arcade machines.
Rare Retro Arcade Machines available.
Most of our machines have replacement.
Experienced maintenance and repair team.
Wide Selection of arcade machines to choose from.
Can't find what you are looking for? Contact our friendly sales manager to enquire! We might just have what you need!
If you are looking for other party packages/activities that are not listed above, let us know as well! Otherwise, you can click on the button below to enquire now!